Top 10 most funded Nigerian startups
The funding landscape for Nigerian startups has been very positive in recent years. In 2022, Nigerian startups raised a total of $1.2 billion in funding, which is more than the combined forces of other West African countries. This funding from investors and venture capitalists has helped to support the growth of these startups and has made Nigeria one of the most attractive startup ecosystems in Africa. Notably, the top 10 most funded Nigerian startups as of August 2023 include OPay, Flutterwave, Andela, Moove and some of the most successful startups in the country.
Despite the global economic downturn, these startup companies have managed to get paychecks from numerous investors to expand their business and innovation. The substantial increase in funding directed towards Nigerian startups is evidently yielding numerous favorable effects on the Nigerian economy. This influx of capital not only generates employment opportunities but also fuels innovation while drawing foreign investments
These startups have progressed through various funding stages, including pre-series D, with investors injecting substantial sums of money into the ecosystem. As of August 2023, the Nigerian startup scene is buzzing with excitement as numerous startups secured hefty investments to fuel their expansion and disrupt various industries. So, here is a run-through of the top 10 most funded Nigerian startups.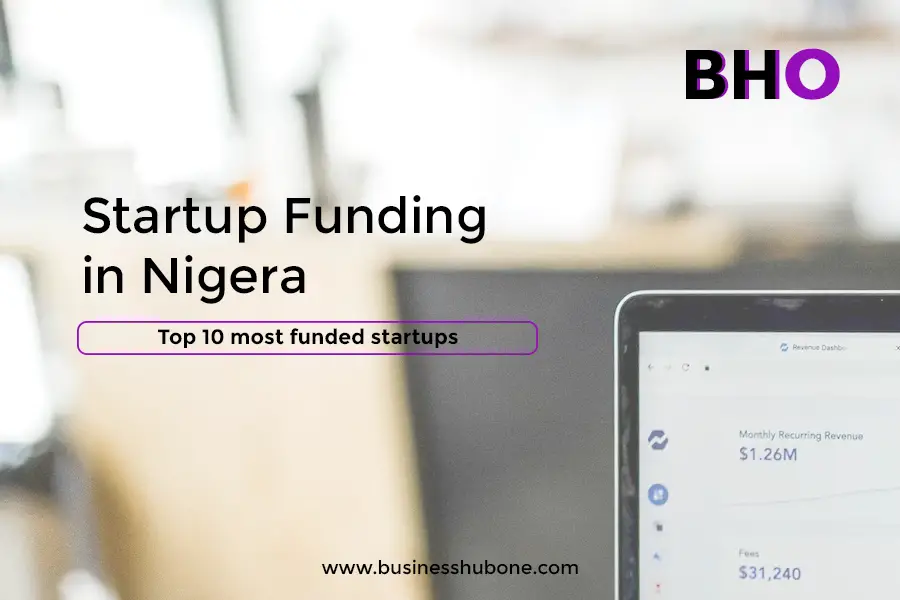 Top 10 most funded Nigerian startups
Moniepoint – $55.5 million
Formerly known as TeamApt, Moniepoint operates as an agency banking channel, leveraging mobile apps and point-of-sale terminals. Their offerings encompass cash withdrawals, deposits, fund transfers, airtime top-ups, and bill settlements. With a vast network of over 600,000 agents, Moniepoint processes an impressive monthly total of over 7 trillion Naira in transactions.
In 2022, the company raised over $50 million to expand credit services. Though its series was unclassified. Then, in 2023, co-led by QED Investors and Novastar Ventures, this latest round brought total funding to $57.5 million, with a prior $5.5 million Series A led by Quantum Capital Partners in February 2019.
Related: TeamApt is now Moniepoint Inc
ThriveAgric – $65.4 million
ThriveAgric was launched in 2016 by Ayodeji Arikawe and Uka Eje, Thrive Agric is an Agric-tech startup dedicated to assisting farmers in securing funding. They have partnered with 19,000+ farmers, working on over 150,000 acres of land. Big Investors like Y Combinator and Ventures Platform have also supported their mission. Additionally, collaborations with FCMB, Sterling Bank, and Leadway Assurance enhance their services for customers.
ThriveAgric is known as the most funded AgTech in Nigeria. In March 2023, the company disclosed a recent funding round of $56.4 million in debt financing, sourced from both commercial banks and investors. This infusion of capital boosted the company's overall funding to approximately $65.4 million, following a prior investment of $9 million from additional investors.
Konga- $79.5 million
Founded in 2012 by Prince Nnamdi Ekeh and Sim Shagaya, this Nigerian e-commerce platform, often likened to an online mall, boasts a wide array of products such as books, groceries, and phones. In 2018, Zinox acquired it, solidifying its status as Africa's top online retailer, frequently drawing comparisons to Amazon.
Eight years ago, Konga secured its most recent funding, a $41 million series C round led by Naspers. However, before it was acquired by Zinox Technologies, it has amassed a total of $79.5 million in funding. Some of its known investors include Kinnevik AB.
Kuda Bank- $91 million
Kuda is a mobile-only digital bank that delivers a seamless banking experience. This Nigerian digital bank, founded in 2019 by Babs Ogundeyi and Musty Mustapha, has garnered substantial funding, making it one of Nigeria's most well-financed startups. They have offices in London, Cape Town, and Lagos,
Related Article: Kuda: One Incredible Digital Story
Kuda offers zero maintenance fees, free transfers, and automated savings and investments, currently valued at $500 million. In total, the bank has garnered $91.6 million in funding, with the latest injection being the $55 million Series B round disclosed in August 2021.
Related; Kuda bank vs OPay
TradeDepot- $123 million
TradeDepot is a B2B e-commerce platform that connects global brands with African small businesses. Boasting 100,000+ registered merchants and $1 billion+ in transactions, it is backed by investors like SoftBank Vision Fund 2, Tiger Global, and Partech. Founded in 2016 by Onyekachi Izukanne, Michael Ukpong, and Ruke Awaritefe, TradeDepot aids manufacturers and distributors in keeping their products stocked in retail stores across Africa and emerging markets.
In July 2020, TradeDepot secured $10 million to broaden its operations into financial services and credit solutions for retailers. Before this, their initial funding round was a $3 million investment, spearheaded by Partech in 2018. Subsequently, in December 2021, they raised an additional $110 million in a Series B round. As of August 2023, the e-commerce platform has amassed a total of $123 million in funding
Lumos Global- $125 million
Lumos Global, founded in 2012 and led by co-founder and president Nir Marom, offers off-grid solar solutions. Their smart solar systems, controllable via mobile phones, provide power for lights, cell phones, fans, computers, TVs, and small electronics. Customers pay for usage using mobile airtime, ensuring cost-effective and accessible energy access.
The Off-Grid Solar startup has several investors including VLTCM, ICV, and Overseas Private Investment Corporation. The company has secured $125 million in funding, including a recent $25 million investment from the US International Development Finance Corporation (DFC) to expand its clean solar market presence in Nigeria.
Moove- $335 million
Moove is a revolutionizing mobility fintech startup founded in 2020 by Ladi Delano and Jide Odunsi. They offer innovative revenue-based vehicle financing and leasing services to ride-hailing, logistics, and instant delivery entrepreneurs. Moove provides vehicles on a weekly rental basis, enabling drivers across cities like Ibadan, Johannesburg, Mumbai, and Nairobi to thrive.
Moove secured a substantial $183.3 million in funding across five rounds in 2022. Now they have a total funding of $335 million realized from a $38 million fund gotten over the years. Also, the latest round in August, led by Mubadala Investment Company, comprised $28 million in equity and $10 million in venture debt contributed to the present funding. In July 2023, an additional $8 million investment from Absa Corporate and Investment Banking (CIB) was announced to expand their Ghana-based Suzuki S-Presso vehicle fleet.
Andela- $381 million
Andela was founded in 2014 with Jeremy Johnson as its CEO. It is a global talent marketplace that facilitates the creation of remote teams for tech, fintech, and startup companies by hiring skilled engineers, product managers, and designers. This talent development company connects African software developers with international opportunities, securing over 4,000 successful job placements for more than 600 clients.
The remote company has a funding of $381 million. They amassed this amount from a $1.5 billion valuation obtained from a Series E round led by SoftBank Vision Fund 2 in September 2021. Also, $100 million from Series D in 2019 did the trick. Aside from this, over the years they have had findings from notable investors like the Chan Zuckerberg Initiative, Generation, Serena Ventures, and Spark Capital.
Flutterwave – $ 475 million
Flutterwave is a payments tech company founded in 2016 by Iyinoluwa Aboyeji, Olugbenga Agboola, and Adeleke Adekoya. They give broad solutions for businesses and, merchants to accept payments both online and offline. Operating across 33 African nations, it has processed nearly $2 billion in transactions and 25 million payments. The company's value is over $3 billion.
In a Series C round, the profitable fintech company at a value of $1 billion, raised $170 million from investors like Avenir and Tiger Global. Then in 2022, they raised $250 million in a Series D round from investors like Boston's Whale Rock Capital Management. Now they have a funding of $475 million.
Related: Flutterwave complete review
OPay- $570 million
OPay, owned by Chinese billionaire Zhou Yahui via Opera Group, is a pioneering digital payment platform. It was established in Nigeria in 2018. The Fintech company offers versatile services such as payments, transfers, loans, and savings through mobile devices. With a presence in Nigeria, Egypt, and Pakistan, OPay, along with Palmpay, leads the Nigerian PoS market with over one million agents and 18 million app users.
Related: How does Opay make Money
OPay amassed $570 million in a series of funding rounds. Their most recent injection of $400 million, led by SoftBank Vision Fund 2 in August 2021, elevated the company's valuation to $2 billion. Prior to this, OPay had secured $50 million in June and a $120 million Series B in November 2019.
Related; Top 15 most successful startups in Nigeria
Top 10 most funded Nigerian startups
Conclusion
The top 10 most funded Nigerian Startups as of August 2023 are some of the most funded and successful ones in Africa. Their services attract investors and venture capitalists despite the economic meltdown. Additionally, these startups have positively affected the county in the areas of commerce, banking, agriculture, and employment.