How to start an eyewear/eyeglass business
The eyewear industry has seen remarkable growth in recent years, with people considering eyeglasses not just as a necessity but also as a fashion statement. The demand and sale of these eyewear have increased in the world, especially in places like China and India. Eyewear is highly needed because of the rise in eye defects and visual impairments among many people. Also, with the everyday use of mobile phones, many have developed computer vision syndrome (CVS).To cap it all, the significance of eyewear to fashion cannot be over-emphasized as it is an important accessory for fashion.
In 2022, the global eyewear market was valued at USD 169.9 billion and reports state that from 2023 to 2030, it is expected to increase to a compound annual growth rate (CAGR) of 8.5%. This goes to show how profitable venturing into this kind of business is. There are also big eyewear brands in the market like Luxottica, and Johnson & Johnson Vision Care, Inc. making huge profits as well as helping many with their optical business.
But then, starting an eyewear business is not just about selling frames; it is about curating an experience that combines fashion, vision correction, and self-expression. So, are you an entrepreneur, with a good business sense to start an eyewear business? Then, this article is for you. It will give you a comprehensive guide to walk you through the essential steps to launch a successful eyeglass business both offline and online.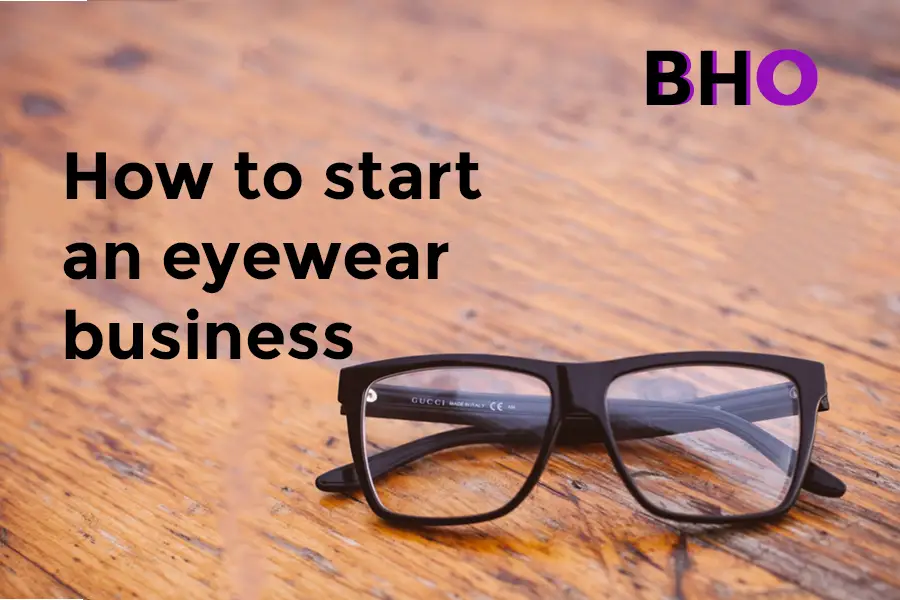 Related: How to build a business from the ground up
Tips on how to start an eyewear/eyeglass business
There are numerous ways to start an eyewear business. You can choose to open a walk-in store or an online store. Additionally, you can become a franchise for a reputed eyewear brand or open a shop in a mall. However, here is a guide on how to start that business either physically or online.
Do market research
Before going into any business venture, thorough market research is essential. You must understand the market, identify your target audience, understand their preferences, and analyze the current trends in eyewear. Analyze the buying habits, interests, and demographics of future customers. Also, you must study your competitors to know their strengths, success stories, and weaknesses to uncover the gaps in the market that your business can fill.
Ask yourself questions like, are there specific styles, materials, or price points that are underserved? What do my competitors don't do well? How can I be better or different? You should also research the legal and regulatory requirements for starting an eyewear business in your area. This research aims to help you understand your market to enable you to shape your design, pricing, and marketing strategies.

Have a good knowledge of eyewear products
You cannot start an eyewear business and succeed if you know nothing about the business. Having a degree as an optometrist or optician is an added advantage and it makes it easy for you to run the business. In cases where you do not hold a degree, you have to study, browse, and ask questions from people more sophisticated in this line of business. You can also hire an optician, to put you through as well as work for you.
This is important because customers will ask questions when they come to your store or if they want to purchase online. Some might have queries about the frames, lenses, and the quality of the sunglasses or medicated eyewear. Learn as much as you can about different lens types, their coatings, and the advantages and disadvantages of each to quickly respond to your customers' questions. Similarly, you should be well-versed in dangerous ultraviolet (UV) and how using the right eyewear can assist in preventing these negative impacts.
Define your niche
The eyewear industry is diverse, hence finding your niche is crucial. It could be eco-friendly frames, vintage designs, specialized sports eyewear, or even affordable reading and prescription glasses. Eyeglasses store sells eyewear that can be either corrective, protective or just fashionable. Point out what makes your brand unique and how you plan to address your target audience's needs better than competitors. Your niche should bring solutions to problems or improve on an already existing one
Also, consider your options for design, fabric, and color. Think about if your selection of frames will include standard materials like metal or plastic, or if your preference is for more environmentally friendly materials like wood or recycled materials. Stores can be set up in one of two ways: either as a full-service shop with an optometrist on-site or as a shop that serves patients who were referred to it by recognized medical eye care practices. You must thus choose which one you want to explore.
Formulate a well-defined brand identity
After you have crafted your niche, the next thing is to define your brand identity. What will make my brand stand out from competitors? should be your primary concern. Your brand identity encompasses everything from your logo, name, typography, and color scheme to your brand's personality and value. Is your brand sleek and modern, or quirky and playful? Your brand's identity should resonate with your target audience while reflecting the essence of your eyewear business. Make everything simple.
Related: What Makes Great Brands?
Develop a business plan
You need to create a business plan once you have a solid understanding of the market. Formulate a robust business plan that outlines your goals, target market, financial projections, and marketing strategies. Your financial plan should include a track record of your profit, loss, charges, cash flow, and monthly revenue. Other considerations include the total budget, the number of employees, trademark registration online, and the items.
Choose a business structure
A corporation, partnership, limited liability company (LLC), and a single proprietorship are a few examples of the various business structures you can choose. The best structure for you will depend on several factors, such as your personal circumstances and the size and complexity of your business.
Source for suppliers and materials
The quality of your eyeglasses is paramount. So, do research and establish relationships with reliable suppliers and manufacturers for frames, lenses, coatings, and other necessary components. If your eyewear is durable and comfortable, it will contribute to customer satisfaction and loyalty. Hence, you will have to use good materials and patronize reliable suppliers.
Create your brand website
Selling online is one of the best ways to succeed in this business. You can still have an in-walk store and run a website or you can base your business online. As a beginner in the eyewear industry, you must have gathered visibility online (social media platforms) before you launch your business. So, create a website with your company's logo, brand identity, and a sample of your product pictures. Also add transparent and clear pricing, shipping, and return policy.
Find a location
If you are planning to open a brick-and-mortar store, you need to find a good location. This ought to be near your target audience's points of access and in a busy area. Find a location with lots of daily foot traffic by taking your time. It might also be near a supermarket or a well-known gym, in the heart of a busy street, or some other location. The majority of customers take their time choosing their glasses, waiting until they have plenty of time. Since so many people are out for a stroll, retail districts are a good choice for this
Set up your store
Once you have found a location, you need to set up your store. This includes getting the necessary furniture and equipment, as well as stocking your shelves with eyewear. The store needs to be attractive, so, it needs a strong display of various types of fashionable and protective eyewear. Other things needed are:
Pictures and posters of celebrities [For those who deal on sunglasses and fashionable eyewear]
A keratometer
An eye testing facility
A refraction unit
An auto-refractometer
Proper Lighting
For your online store, you can set your website on popular e-commerce platforms like Shopify. Then include a secure checkout process, quality images, and clear product descriptions.
Get the necessary permits and licenses.
If your eyeglasses shop is sued, having a legal business entity like an LLC or corporation prevents you from being held personally accountable. Hence you must obtain the needed permits and licenses to operate as well as ensure you comply with eyewear industry regulations.
Depending on where you are, different permits and licenses may be required. You should contact your state and local government to find out what is required. Also, get a certificate of occupancy if you want an in-walk store. Before starting a business, you must also register for some state and federal taxes
Hire employees
Employees are needed if you one to start your offline eyewear business. These employees can be opticians, salespeople, and customer service representatives. They make the work more easy.
Stay up-to-date on trends
The eyewear industry is constantly changing, so it is important to stay up-to-date on the latest trends. By doing this, you can make sure that you are providing your customers with the goods they want. So, attend industry events, find a business mentor, and get involved in the community. This is another great way to network and learn about the latest trends in the eyewear Industry.
Market your business
Once your store is open, you need to start marketing your business. So, how do you market eyewear? It can be done through a variety of channels and strategies such as:
Print advertising in newspapers or magazines.
You can use the buy one get one free strategy (offer reduced prices)
online advertising
Startup a blog
Giving free eye checkups
Social media platforms like Facebook, Instagram and Twitter
Offer discounts
Include testimonials and hashtags on your website or social media platforms.
Your store should be clean and arranged
Provide excellent customer service
One of the most important things you can do to ensure the success of your eyewear business is to provide excellent customer service. This means being friendly, helpful, and knowledgeable. Create a close relationship with customers.
Who is the target market for eyewear?
The target market is mostly for adults, especially old men and women. Most old folks experience eye deficiency like cataracts and presbyopia, so this eyewear helps to correct and aid their vision. However, children and youths with vision impairment also need it as well as those that need it for sunny days and to make a fashion statement.
Is the Eyewear business profitable?
Yes, it is one of the most profitable and good businesses to venture into. Customers can pay as little as $69 for a pair of basic glasses while paying up to $900 for designer eyewear. According to Statista, the revenue of the eyewear/eyeglass market is projected to surpass $141.50 billion globally.
Conclusion
Starting an eyewear/eyeglass business is not a daunting task if you know the right strategies to apply. The eyewear industry is profitable and has many opportunities to make you earn a comfortable living. So, make sure to understand the market and competitors as well as utilize the internet to boost your eyewear business startup.