"Your brand is what other people say about you when you're not in the room"

-Jeff Bezos
A single colour out of place in your brand identity elements could mean the difference between gaining generational customer loyalty and not having a full sale cycle.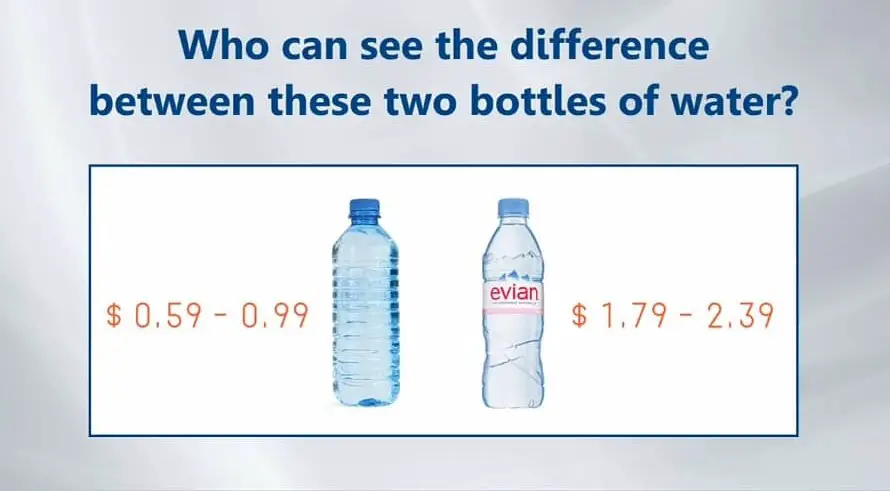 Which one of these would you buy?
You might say the first but research shows that most people would choose the second one because they want the benefit that Evian offers- youth. And it guarantees what you are drinking. Our brains work with rational and emotional responses and strong brands provide both.
Branding and marketing are essential to the success of any business. You need to define who you are, who your ideal customer is, what their daily life is and how you fit into that lifestyle.
Brands are competing heavily for the attention of customers. Brand identity must be intentionally planned in the same way as financial models, product management and term sheets.
What is a Brand?
A brand is a promise. It is reflected in the customer's experience with the organization. It represents the face of the company and is often a consumer confidence level marker in businesses. Brand identity is a strategic intangible asset as is brand equity.
From the perspective of a consumer, brand equity is the value that a company or product generates with it's recognized name, versus if it had a generic name. It is the extra money buyers are willing to pay for Coca-Cola versus other soda drinks.
A company's brand identity carries monetary value to it. For publicly traded companies, stock prices are usually a strong indicator of public trust in your brand.
So What Makes Great Brands?
Emotional Connection.
The central idea behind the brand strategy is to create an emotion in consumers. Successful brands tell stories all the time and build long term emotional relationships with consumers.
One of the strongest brand identities in the public eye is Apple. Apple's brand image is centred on enabling people with technology. This is why they have a wide consumer base that ranges from tech gurus and novices to photography hobbyists.
Also, they offer seamless integration as one of the strong points of their brand. Their physical products like the Mac Air or the iPhone are simple, nicely designed and yet very innovative. Their software products like iTunes or iCloud provide a seamless e-landscape that allows ease of use and synchronization. Apple consumers have access to work and entertainment anywhere, anytime on any device. The Apple brand narrative is in its synchronization, ease of use, edge and modern design.
Bang & Olufsen's brand narrative is luxury. They are a high-end Danish luxury headphones and speakers manufacturer.
If you have seen any of their adverts like this one, you would understand that they know their target market and have built their brand identity to cater to them. Bang & Olufsen luxury headphones and speakers are highly priced! This Beolab 90 model might even cost you more than a car. However, because B&O has built a successful brand, they have been able to remain in business since 1925.
Innovation
Successful brands are highly innovative. Modern clothing staple, North Face, went from the precise and technical world of mountain climbing to the streets of rap music to becoming the popular urban outfitter that it is.
In its early day, North Face was designed to be mountain climbing and adventure gear. Their products were not exactly cheap, their target market understood the value of their offering. Price did not seem to matter. The name North Face comes from the most challenging part of any mountain in the world in the Northern hemisphere- the North Face. For sure they resonated with their target audience!
In the 90s, North Face became a huge part of the rap culture and became a status item. Rappers and artists referenced North Face in their songs and the brand became a cultural symbol. They quickly adapted to this identity and released product lines that catered to their new-found audience.
Today, North Face jackets and t-shirts exist in all shapes and sizes to fit a modern lifestyle. This ability to shift and adapt currently contributes majorly to the success of its parent company VF Corp to the tune of 23.3B USD in market capitalization.
Truth
Every great brand narrative is based on the truth. An effective brand strategy is one that reflects the rational value offering of products. The only way to resonate with the customer is to see things like the customer.
For instance, in this Volkswagen advert where a dead man at his own funeral wills off his properties to his family, the concept of brand truth is solidly represented. The transcript of the ad reads:
"I, Max Lee, stably being of sound mind and body do hereby bequeath the following:

to my wife Rose who spent money like there was no tomorrow, I leave one hundred dollars and a calendar. To my sons Rodney and Victor who spent every dime I ever gave them on fancy cars and fast women, I leave fifty dollars in dimes. To my business partner, Jules whose only model was "spend, spend spend," I leave 'nothing, nothing, nothing' and to my other friends and relatives who also never learned the value of a dollar, I leave a dollar. Finally, to my cousin Harold who oft time said a penny saved is a penny earned who also oft time said "gee! uncle Max, it sure pays to own a Volkswagen" I leave my entire fortune of one hundred billion dollars."

-Volkswagen
The advert drove Volkswagen Beetle sales up because it was based on the value proposition of the product- being economically smart. Good brand identity is shaped by the power of the product to drive the brand.
Crafting Your Brand Identity
You can imagine the structure of your brand as a mango. Mangoes typically have three layers- the skin, the juicy flesh and the solid pit.
Starting at the core of brand identity-the mango pit- is the brand essence. This is the heart and soul of the brand. It guides the entire structure of the business and summarizes the brand identity and its key promises. For Philips, it is a technology designed around customers. For Starbucks, it is rewarding everyday moments. BMW is a sheer driving pleasure. This is why Philips devices are very simple to use, Starbucks offers rewards and why every car BMW produces is for the sole purpose of driving for enjoyment. These businesses understand their target audience and have built emotional and rational connections with them.
The fleshy middle can be considered the brand values. Just like the sweet fleshy part is what you look forward to in a mango, your brand values are what your consumers are looking out for. Disney's brand values are magic, family, and fun. You wouldn't go to Disneyland and start working out simply because Nike says "just do it." Would you? Notice how both brands have defined their brand values and grown accordingly?
On the outside, you see the peel or the skin, which is what you perceive before you buy or eat it. This is your brand perception. It is critical to every business and long-term business growth is impossible without a great consumer experience. This is best summed up by this quote from a Coca-Cola executive:
"If Coca-Cola were to lose all its production-related assets in a disaster, the company would survive. By contrast, if all consumers were to have a sudden lapse of memory and forget everything related to Coca-Cola, the company would go out of business."
– Coca-Cola Exectuive
The goal of defining your brand essence and values ultimately builds up to create this perception.
The Bottom Line:
Branding is a creative adventure. Your business is a living entity and it deserves its own living, breathing identity. Whether you are a small business owner or a large corporation, you need to be intentional with building your brand. Creating an identity for your business is as important as the first document you ever sign. Your brand is your business and your business is your brand. Build it!