How to build a business from the ground up
Are you an aspiring entrepreneur thinking of how to start a business but do not know how to go about it? Then, the first thing to take note of is that the journey is not always easy. Starting a business from scratch is like embarking on an exciting and challenging adventure. Well, building a business from the ground is a daunting task, but it can also be incredibly rewarding. If you have a great idea and are willing to put in the hard work, you can build a successful business from the ground up. It requires careful planning, determination, and a clear vision.
Over the years, many businesses have failed because they did not utilize the right business tools when starting their business. Generally, for you to start a successful business you must have a good idea, be creative, and have the right capital. The four Ps of marketing which are product, place, price, and promotion are also significant for that startup. So, whether you are an aspiring entrepreneur or looking to take your business idea to the next level, this article will provide you with the insights on how to build your business from the ground up.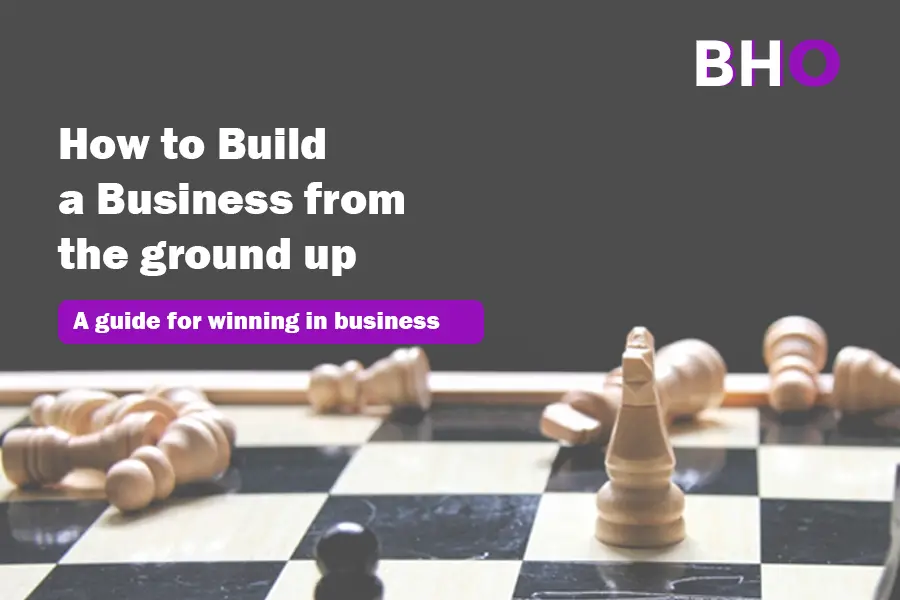 Steps on how to build your business from the ground up
1. Find a need
The first thing to do before embarking or thinking of building a business is to find a need in society. Most business fail as a result of starting with brilliant ideas, products, or services that does not solve any problem. So, look at your environment and community and find out what they lack. Look for a problem that you can solve with your business. Your business must offer solutions and public value if it tends to be successful.
2. Generate an idea
After you have clearly defined the need, the next step is to generate a business idea. Every successful business starts with a great idea. Brainstorm ideas that align with your passions, skills, and market trends. You must ask and remind yourself 'Why' you are embarking on this particular business. This will aid your business idea and determine your niche.
For instance, if you have the idea of starting a clothing business, you must also find your niche. You can choose the idea of selling trendy, classy, casual, ethical, or athletic clothes. Gather ideas from fashion magazines, influencers, newsletters, and podcasts to stay updated on trends. Notably, Leanne Mai-ly Hilgart created Vaute Couture, a vegan coat brand, due to limited cruelty-free choices. This exemplifies addressing gaps in the market to nurture one's concept
3. Do market research
Once you have an idea, conduct thorough market research to identify your target audience, understand their needs, and evaluate your competitors.• To ensure that your goods or services are appealing to your target market, thorough research is essential. It will allow you to ascertain whether there is a market for your good or service. A unique value proposition will also help you stand out from the competition and provide you with an advantage.
To begin, identify your target audience by analyzing aspects like age, gender, location, interests, and income. With your audience in mind, research your industry through a SWOT analysis to uncover strengths, weaknesses, opportunities, and threats. Capitalize on your competitors' shortcomings and exploit those areas for growth. Take a clothing business for an example, you can ask the following questions while conducting your market research:
Who is my intended market?
Do I want to offer unisex or garments for any gender?
What clothes companies are popular with my target audience?
What age range do I want to target with my clothing sales?
Do they have a brand allegiance?
Where do they shop more frequently? Is it an online or physical store?
How frequently do they shop?
Do I want to sell clothing meant for a specific occasion?
What will draw shoppers to my clothing above rival brands?
What is the price point for my target audience?
What is my competitors' price range?
What factors affect my audience's purchasing decisions?
4. Create a solid business plan
The next step is a well-crafted business plan which serves as your roadmap to success. Here, you need to outline your business goals, strategies, financial projections, and marketing plans. Your business plan must have answers to questions your investors might ask you regarding every aspect of your business. Ultimately, a comprehensive business plan not only helps you stay organized but also makes it easier to secure funding from investors or financial institutions.
Your business plan must be comprehensive, reasonable, and periodically updated as your company expands. Also, your business strategy should include the following essential elements:
Executive Summary: This is a quick summary of your company, together with your mission statement and goals.
Business Description: In this section, you'll outline the services your firm provides, as well as your target clientele and competitive advantages. Your brand's distinctive qualities.
Product or Service: Describe the goods or services you provide in great detail. Using a clothing business, for example, you will need to briefly describe each product, including whether you make it yourself or purchase it from a third party.
Market analysis: To better understand the demands of your clients, research your industry and target market. Your target market and competitors are included. If it entails selling clothes, you must develop an ideal customer profile that describes the precise kind of person you want to buy your clothing from. It may also entail developing buyer personas.
Marketing and Sales Strategy: Describe how you intend to promote and sell your goods and services.
Financial Projections: Describe your company's future financial performance by including financial statements and projections. It should also contain any upfront investments you are prepared to make. For instance, in formulating a business plan for a clothing business, ask, What resources are necessary for a garment firm to run efficiently? Do I require physical office space or certain office supplies like computers, filing cabinets, hangars, or mannequin? Before investing, decide what you need and plan accordingly
5. Define your business goals
You must have a clear understanding of your business goals. Carrying out market research and finding a need will aid you in formulating your business goals. These goals will help you track the success of your business. Create both your short-term and long-term goals. Ask yourself what you intend to achieve with your business in the present and near future. Employ the S.M.A.R.T goal strategy, that is your goals should be written down and made specific, measurable, attainable, relevant, and timely.
For instance, if it is a clothing business, set the number of clothes you intend to sell in a week or month. Also determine, if your goal is to deliver quality, fashionable clothes for the local people at cheap prices or if you want to sell expensive clothes for more sophisticated people. As a fashion retailer, you also need to employ long-term goals to keep up with new trends because the customer changes preferences.
6. Choose a business structure
You must decide on a suitable business structure when building it from the ground up. It can be as a sole proprietorship, partnership, LLC, or corporation. These different types of business structures have their own advantages and disadvantages. Therefore, you need to choose the structure that is right for your business, taking into account factors such as liability, taxes, and scalability.
Again, decide on the business model. For instance, those starting a clothing business will decide if they will make the clothes themselves, engage in drop shipping, or buy wholesale if they lack design skills. Your business model can be homemade, private label, print on demand, cut and sew.
7. Secure funding
Building a business requires capital. So, to fund your business, you can explore various funding options like personal savings, loans, and grants. Also consider angel investors, crowdfunding or venture capital, Present a compelling business plan to potential investors to secure the necessary funds for your venture. Making use of a network of industry professionals might help you make relationships with possible investors.
8. Build your brand identity
Your brand is how customers perceive your business. So, when building your business, you must develop a memorable and strong brand name, logo, and tagline that resonates with your target audience. It should stand out from other businesses. Also, the website, advertisements, voice, and company culture should reflect a business's brand as its identity. Your business brand and logo should tell the story of the company.
Wondering about creating a great logo? No need for pricey designers or agencies. Online tools offer an easy way to craft your own unique logo. For example, clothing vendors should ensure their brand name and slogan are easily spoken and spelled. Pick a catchy name, assess cross-language compatibility, and check domain availability. Select a slogan and brand colors, and you're set. You can also create your logo design from Canva or any other design websites.
Related Article: How to build a brand Identity
9. Develop products or services
Once you have a well-defined brand identity, the next thing is to create high-quality products or services that solve your target audience's pain points. Focus on innovation, quality, and value. Also, test your offerings and gather feedback to make improvements before the official launch. Over time, consider introducing fresh products or services to attract new customers and expand.
Prioritize quality and alignment with your target market's needs. Using a clothing business, for example, its owners have the options for product sourcing which include buying from wholesalers, manufacturing your designs, or creating items in-house. If you want to use online or wholesale then your products are the concern of the supplier. But, if you want to develop your products from sewing and handmade, materials like fabric, buttons, zippers, patterns, sewing equipment, and branding elements are essential.
10. Find the right business location
Finding the perfect location is one of the most crucial decisions you will make when starting a business. The right location for your business to succeed should be accessible to customers, employees, suppliers, and other resources. It should not be hidden. Also, make sure that the location you choose for your business is zoned for the type of business you are planning to operate. The environment should be friendly and crime free. More so, consider the cost before renting a store and your competition should not be close to your shop.
For instance, when running a clothing business that targets working women, opt for a spot near business hubs, shopping centers, or downtown areas. For a store offering attire for all genders and ages, pick a mall or plaza near residential regions. Research existing similar stores to identify profitable business locations, guiding your choice effectively
11. Set up your store
To build your business, you must set up a physical store or online store. Even if it is for a small business, the store should have the necessary pieces of equipment for your type of business. It should be neat, furnished and well-decorated. Then, your online store is a website. It should include good images of your products, testimonials, and shipping information.
For example. a physical clothing store requires equipment such as racks, hangers, mannequins, dressing rooms, aisle space ,and lighting. Then, an online store can be set up on Shopify and other e-commerce websites.
12. Get the required licenses and permit
You have to register your business name and acquire the necessary licenses and permits. Complying with legal requirements ensures a smooth operation and builds trust with customers. Well, this process can vary from state to state, so be sure to do your research. You may also need to renew your licenses and permits regularly. In addition, you need trademarks, copyrights, tax ID numbers, and a bank account for your business to be legal.
In the U.S., apart from licenses, registering your business with the IRS is vital for taxation. Then again, hiring employees requires an Employer Identification Number (EIN). Also, businesses that produce and sell some specific products need to obtain permits from the Environmental Protection Agency (EPA). Make sure all legal requirements are provided.
13. Build a strong online presence
Online presence is essential in this modern digital age. So, create a website that is simple to use and responsive to mobile devices to exhibit your goods and services. You may increase the visibility of your website on search results pages by optimizing it for search engines (SEO). Also post frequently on your website and keep up active accounts on Facebook, Instagram, Linked In, and Twitter, among other social media channels.
14. Do effective Marketing and Promotion
For your business to bloom, you must develop a robust marketing strategy that includes online and offline tactics. You have to enforce the marketing tactics outlined in your business plan. Also, maintain consistent posting on your website as well as engage in blogging. Write compelling and easily shareable content which in turn aid in boosting your website's visitors.
Most especially, you need to participate in trade fairs and industry gatherings, as well as adapting to virtual options when necessary. Make sure to create a presence on Facebook, Twitter, and LinkedIn. You must start promoting your business through suitable platforms because it has a substantial influence on effective marketing.
Those starting a clothing business for example, can market and sell their products on platforms like Amazon and big box stores. Pinterest and Instagram can also be used for social media marketing. Banner ads, influencer marketing and email marketing can also the trick.
15. Hire employees and an accountant
As your business expands, allocate funds to employ skilled staff or contractors. Employ top talents who share your vision and inspire each other. Also, to ensure organized finances and prevent legal issues, consider hiring an accountant, especially as your company grows. Accountants facilitate tax benefits and simplify complex tax information. If you prefer not to hire an accountant, you can manage finances using accounting software or tools like Microsoft Excel
16. Engage with customers
Provide exceptional customer service to build strong relationships with your customers. Engage with them on social media, respond to their queries promptly, and consider implementing a loyalty program to reward your faithful business customers. Customer service is essential for any business. Make sure you go above and beyond to provide your customers with a positive experience.
17. Set goals for the future
Make sure to establish objectives for your company's future. This will drive your business towards triumph. Also, while creating your business plan, contemplate on an exit strategy. Anticipating how you will eventually leave the business prompts you to think ahead and make better business choices.
18. Adaptability and Scaling
Business landscapes are constantly evolving. Hence, you have to monitor industry trends, gather feedback, and be prepared to adapt to new strategies. As your business gains traction, explore more opportunities for expansion and scaling, whether it is through new products, services, or markets. Well, entering new markets is another excellent strategy for business expansion and adaptability. You can reach new clients and get fresh growth opportunities by branching out into other markets.
19. Be passionate and patient
Be fervently committed to your company. It will be challenging to succeed if you are not passionate about what you are doing. Likewise, along the path, there will be obstacles, but keep going and be patient. You will one day succeed if you persevere and work hard.
How to build a business from the ground up
Case Study: Walmart
The remarkable success story of Walmart serves as a prime example of building a business from scratch. Established by Samuel Moore Walton in 1962, this retail giant dealing in house shopping products started as a modest single-room store. Walton's business goal from the onset was to enhance people's lives by helping them save money. So, despite beginning in an unremarkable location, his unconventional methods and resolute beliefs differentiated him from his rivals
To gain more knowledge and know his competitors, he attended a training program organized by competitors known as Butler Brothers. This enabled him to conduct market research and analyze pricing, displays, and service approaches. Then, he changed his own strategy and saw a loophole from his competitors. Hence he started sourcing more affordable suppliers and passing on savings to customers and the company flourished through volume-based profits.
Walmart targeted budget-conscious families and individuals and eventually became the largest employer in the US, boasting a net worth exceeding $320 billion. Adaptation, resilience, and a commitment to customer care have solidified Walmart's brand identity and online presence which is a testament to its sustaining success.
Conclusion
Every businessman or woman faces challenges when starting a business. However, do not allow feelings of being overwhelmed or unprepared to stop you from achieving business success. With a few steps of being market-conscious, innovative, creative, and patient, you will be surprised at how that small business will succeed.