Buy Now Pay Later: EasyBuy Case Study
 If you have been struggling with your finances and not being able to obtain the things you desire. You might have a way out in the new buy now pay later wave that is sweeping the Nigerian market space.
Buy now pay later is a mode of financing that is usually short-term. It allows consumers to make purchases without having immediate purchasing power to pay at a future date.
Buy Now pay later has allowed many Nigerians to acquire basic assets ranging from mobile phones to home appliances. The system also benefits the sellers by boosting their sales revenue and potential for more profit.
The financing option is becoming increasingly popular in Nigeria due to its convenience, flexibility, spread-out payment option, and the cash crunch that pervades the Nigerian economic space.
The outbreak of the COVID pandemic in 2020  facilitated more adoption of the scheme. However, it affected income inflow for most households, which allowed for the buy now, pay later plan that empowers consumers to consume without immediate means to fund their acquisition.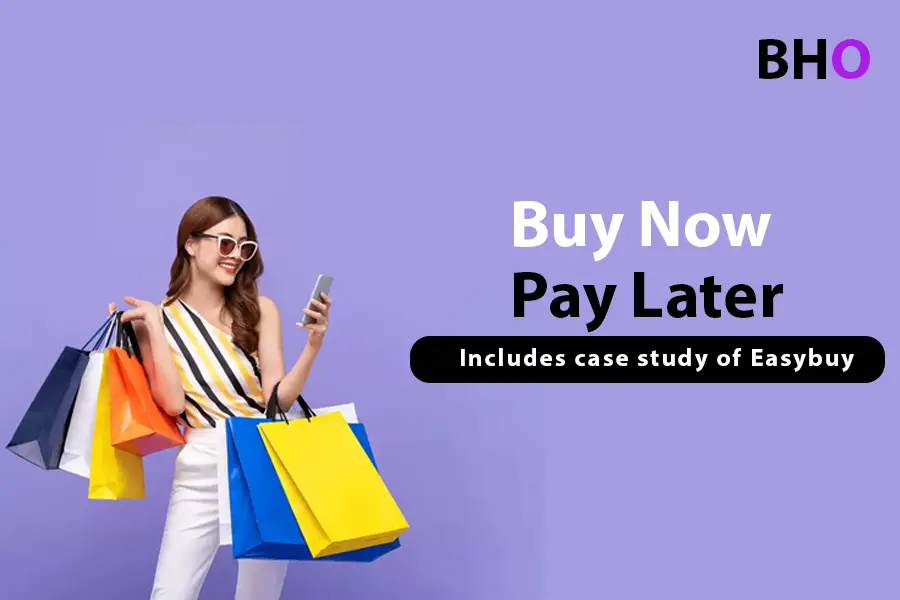 Buy Now Pay Later
Buy Now Pay Later is not without its disadvantages

Impulse Buying
Buy now, pay later could trigger impulse buying such that people end up purchasing this they don't need.
Moreso, there are extra charges for late payment or default, and no control over when payment must be made, which could affect one's ability to secure a loan if one defaults on payment, to add the temptation to spend money one doesn't have.
Case Study: Easy Buy
Several platforms provide this service in Nigeria. One of them is Easy buy. Easy buy, a subsidiary of palm credit, a Chinese-owned company, is a platform that allows consumers to acquire smartphones and other devices on credit after certain conditions have been met.
These conditions include;
 A 30 percent down payment, while the balance is generally paid in instalments over three (3) to six (6) months.
The customer must be employed with a regular source of income.
A valid means of identification is required. E.g., national I.D., international passport, driver's license, etc.
Customer's bank verification number(BVN)
Active Automated Teller Machine card with more than seven (7) months validity period.
Once a customer can fulfill these conditions, he/she can take the following steps to acquire the desired device.
Locate an easy buy agent:  Easybuy affiliates with most phone countries.
 There is usually an agreement between the phone companies and easy buy for sales of products to their customers after certain conditions have been made.  
Usually, easy buy has representatives in these phone companies to attend to the request of those who wish to explore their service. However, it should note that you cannot use easy buy for online shopping from places like Jumia. It requires you to locate an outlet that partners with easy buy.
Provide the required information as identified above. After an easy buy agent has been found, the next step is to provide them with the necessary details. This will validate your eligibility for their credit service.   In addition to those five (5) conditions above, the representatives might ask specific questions and note your responses for processing.
Select the desired phone: After providing sufficient information and adequately meeting all conditions, the agent will retrieve the phone from the phone store for processing.
The next thing is to sign up on the easy buy platform with the details submitted earlier to the agent. Photographs, voice notes, or fingerprints may also be collected. This will be used to process the loan application.
After the signing up and processing of the form, the customer makes an initial deposit of thirty (30) percent of the value of what is taken. Then, a repayment structure is set up for the consumers. Unfortunately, only two (2) options are available – 3 months or six-month repayment plan.
The last step is the final verification stage. The customer must provide four (4) contacts of relatives or friends that can vouch for your person as responsible. Finally, the easy buy agency will contact the people who default in payment.
What is the limit to the amount of credit obtainable from Easybuy?
Easybuy provides a credit facility between NGN10,000 and NGN50,000 if all conditions are met. However, et Easybuy does not offer a credit beyond NGN50,000.
What is the repayment structure for easy buy?
Easybuy has two repayment structures: the three-month repayment structure and the 6-months repayment structure.
Does easy buy charge interest on credit service?
Yes, and it depends on the structure of repayment. For example, a nine (9) percent interest is charged for a 3 – month repayment structure package and six (6) percent interest for six (6) months repayment package.
See also Trove vs Bamboo
How to repay Easybuy?
There are about four (4) options for repayment. It could be through the Easybuy application, mobile money transfer, paying in cash at a bank branch, or through a financial service provider like flutter wave.
When paying via the easy buy app (you can download this via the google play store), one should log in, go to loan history and click the pay now option.
There is a bank card option to tap and input card details for payment. It should keep all payments to avoid future controversy. Such could be helpful in case of unreflective payment, overpayment or transaction errors. In case of error or difficulty in payment, one can contact their customer care service or send a mail to [email protected]
Disadvantages of Easybuy
One of the biggest disadvantages of Easybuy is that in the event that you default, you get locked out of your phone and a notice will be sent to come of your contacts that you have defaulted in their payment
Easybuy could easily be a lifesaver in the event that you need a device and you do not have enough cash at hand; however, it should only be used if you have a clear source of income to repay the money borrowed to prevent embarrassing situations.
Easybuy defaulters – What happens if I default?
Organizations can take several steps can in the recover their money. Easybuy defaulters are usually taken seriously by the company and several measures are put in place to ensure that the loans are repayed
They include:
Sending a warning to defaulters to pay up of face extension of their loan
Extra charges for defaulting with additional days of grace for repayment
A notice that will contact the contact   you provided will be for non-payment of loan received
Your BVN could be shared with authorities, and you may be banned from enjoying further loan services.
They will track through the information provided.
If you need a phone device without having the total money, you can explore the Easybuy mobile credit scheme. Other credit platforms include Spredda (for home appliances, computers, sport and fitness products, etc.), CDcare (for gadgets and household appliances), Credpal (credit access for business and individuals), and Zoomba, Altmall, ParktelOnline, etc.
Conclusion
The buy now, pay later scheme offers loads of advantages to consumers. However, you should also note that it poses some disadvantages. Therefore, consumers should try to maximize the scheme's benefits and avoid the downsides of welfare improvement.