Ease of doing Business in Nigeria 2020
The ease of doing business is a yearly report by the world bank that reviews certain criteria about doing business in virtually all the world countries and generates a ranking using this data.
This is a comprehensive breakdown of the report into easy titbits. it draws information from 15,000 professionals from 190 countries of the world
Areas of Business Regulation
Opening a Business
Starting a Business
This refers to the time, cost, paid-in minimum capital requirements to start a Limited liability company for individuals.
Nigeria made starting a business easier by reducing the time needed to register a company and by improving online platforms. This reform applies to both Kano and Lagos. Nigeria (Kano) also made starting a business easier by no longer requiring on-site inspections for business premises registration.
Related: How to start a business in Nigeria
Employing Workers
This refers to the flexibility of employment regulation, the modalities of hiring workers.
The ratio of formal workers to informal workers in Nigeria is quite low, Most companies use this informal employment of workers through employment agencies as a means of boycotting the cost of doing business.
Getting a location
Dealing with construction Permits
Most companies require the construction of office spaces, warehouses of factories and are directly impacted by the ease or uneasiness of obtaining construction permits, in the light of the time it takes, cost to complete the formalities, quality control, and safety requirements.
Nigeria (Lagos) made dealing with construction permits less costly by eliminating the Infrastructure Development Charge (IDC, the fee for construction permits) for warehouses.
Getting electricity
Access to reliable electricity is an indisputable requirement for running profitable businesses, making it imperative to examine the time, and cost of getting connected to the electric grid, the reliability of the grid and the transparency of the tariffs
Nigeria made getting electricity easier by allowing certified engineers to
conduct inspections for new connections. This reform applies to both Kano
and Lagos.
Registering property
Acquiring and transferring properties are integral parts of doing business. The time and cost of transferring property, the quality of the land administration system is measured.
Nigeria
(Lagos) improved its land administration system by implementing a
geographic information system.
Oyo has digitized the process of getting a certificate of ownership for lands, increasing the transparency of the process, and reducing time to obtaining the certificate to less than 60 days.
Accessing financing
Getting Credit
Comprises of the rules guiding access to credit, protection of the interests of the lender and borrower, special business regulations regarding getting credit for building businesses, movable collateral and credit information systems
Protecting minority investors
Minority investors play an important role in financing companies and laws protecting these investors of shareholders in transactions and corporate governance is imperative
Dealing with day to day operations
Paying taxes
The Tax regime in Nigeria is not the most efficient as there are issues of multiple taxations among others. Most businesses get along by evading taxes altogether – This however is being cracked down on as a lot of financing and contracting opportunities are now tied to paying taxes.
Trading across borders
Nigeria reduced the time to export and import by further upgrading its electronic system and by launching e-payment of fees. This reform applies to both Kano and Lagos.
Operating in a secure environment
Enforcing contracts
Commercial disputes are common occurrences in the process of doing business and an easier and fairer country in resolving these disputes makes it more conducive for businesses.
Nigeria made enforcing contracts easier by introducing a pretrial conference as part of the case management techniques used in court. This reform applies to both Kano and Lagos. Nigeria (Kano) also made enforcing contracts easier by issuing new rules of civil procedure for small claims courts, which limit adjournments to unforeseen and exceptional circumstances
Resolving Insurgency
Insurgency is one evil that places setbacks on the path of business development.
In Nigeria, the North Eastern path is the worst hit by the insurgency, and doing business in that part of the country might pose significantly higher difficulty due to the threat to lives and property that accompanies the insurgency.
Contracting with the Government
Business oftentimes exist as entities that work directly with the government in certain areas such as public procurement, contracting construction, etc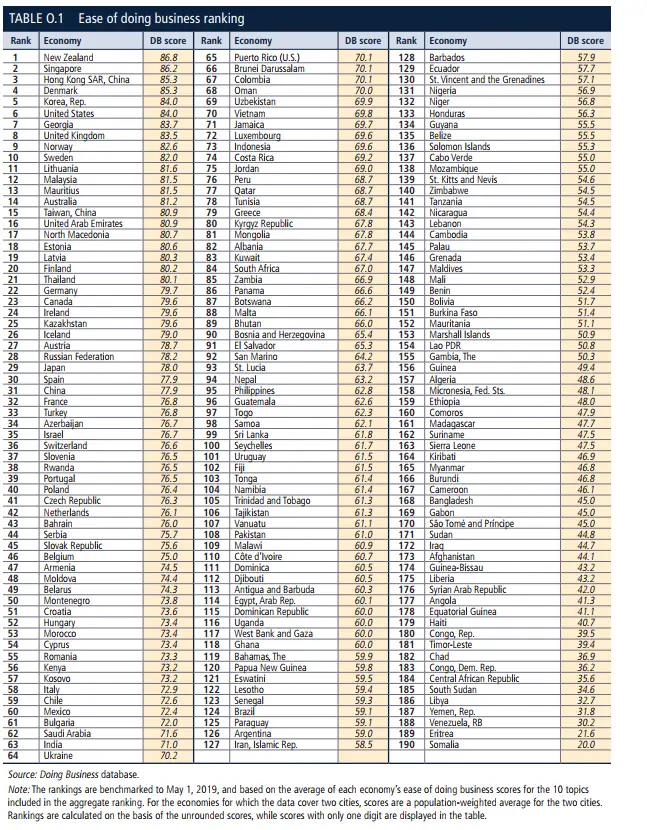 Effect of Business Regulation
Business regulation is one aspect of doing business that affects the ease of doing business the most.
It comprises of more definite laws in terms of
Entry regulations
Land property rights
Court efficiency
Entry regulations
In Nigeria, these entry regulations are mostly straight forward in the major cities such as Lagos,
However, for some sectors, these regulations might not be explicitly spelled out or be subject to frequent change due to the level of overall development of the country
E.g The Transportation sector in Lagos state has witnessed abut two to three policy change in the last three years and had seriously hampered out the business of Bike-on-demand in Lagos(Lagos-okada ban saga)
The sudden change in regulatons wiped out several millions of dollars in value.
Land property rights
Exercising land property rights is closely tied to the efficiency of the court. Better land property rights helps access to credit.
Goldstein and others (2018) found that land tenure security improvements of demarcation induce a 23–43% shift toward long-term investment on
demarcated land parcels. This also leads a shift in investment decisions from subsistence to perennial cash crops.
Court efficiency
In Nigeria, today there has been considerable improvement to the guidelines to the Judicial process such as reduction of length from trial to decision. This helps resolves issues quickly making Nigeria more attractive to Investors.
Employing workers
Work Flexibility
Paid Leave
The workers in the formal sector in Nigeria are entitled to about 20 days of paid leave annually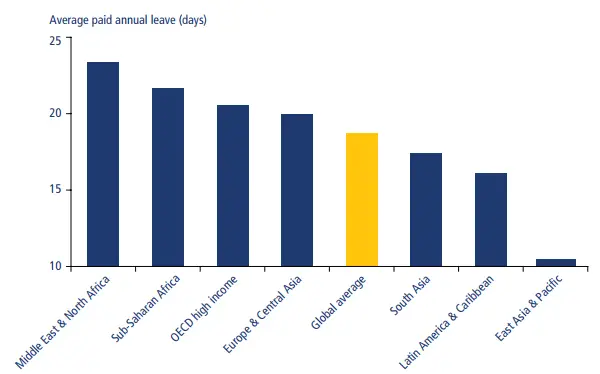 Ease of Redundancy
Complex Redundancy procedures pose challenges to firms. Rigid regulation can lead to misappropriation of company resources, providing older workers with job stability while leaving younger, less experienced workers vulnerable.
The prevailing pandemic has seen more interesting developments in the regulation of employment and easing redundancy by employers.
Government agencies such as the Central Bank of Nigeria have kicked against the sack of workers in the banking sector.
This acts proves significant obstacle in the path of ease of doing business.
Ease of doing Business in Nigeria – Ranking
source: tradingeconomics.com
According to the 2020 Ranking, Nigeria Ranks 131 among the 190 countries in the world.
Corruption Ranking
Corruption is another plague that adversely affects the business landscape of Nigeria. Nigeria is the 146 least corrupt nation out of 180 countries, according to the 2019 Corruption Perceptions Index reported by Transparency International.
source:
tradingeconomics.com
Related: Difference between Startup and Small Businesses
Conclusion
This opportunities that abound in Nigeria, outweighs any possible disadvantage making any risk worth it.
With proper due diligence, the attendant risks can be mitigated and good business is done in the country.