Role of Startups in Economic Development
In a society where knowledge is paramount, innovation is a driving force of the economy on all levels. Startups are usually the brains behind the introduction of new products and services, and innovations that are usually commercialized.
Eric Ries , the creator of the Lean startup describes a
Startup is a newly formed company with the purpose to develop new and innovative products or services in uncertain circumstances, if it satisfies a new need present either globally or a broader area then it has great potential.

Eric Ries, Lean startup
Startups are very crucial because they bring new innovations, create jobs ,and bring competitive dynamics into business .
Start-ups are very crucial for developing countries because of the new knowledge they bring and how they contribute to the economic growth and development of the country. Many Developed countries have benefited greatly from the innovations of startups and have experienced immense growth and development.
Growth of start-ups is determined by highly ambitious and determined Entrepreneurs who find promising business opportunities and in so doing they grow and expand and create more jobs and improve the economy of their society. 
For a startup to fulfill its role in economic development it needs to know the needs and business opportunities that surround it and be determined to grow in order to create more jobs and a better standard of living and a better economy. The growth of a startup is crucial to the growth of the economy, the more the startup grows the more the economy grows and develops.
Roles of Startups in Economic Development.
Startups are new businesses and service providers bringing in new innovations and products in a society. Startups are very important in an economy because they play very crucial and important roles in the development of the economy of any society/nation it is situated. Here are some of the major roles of start -ups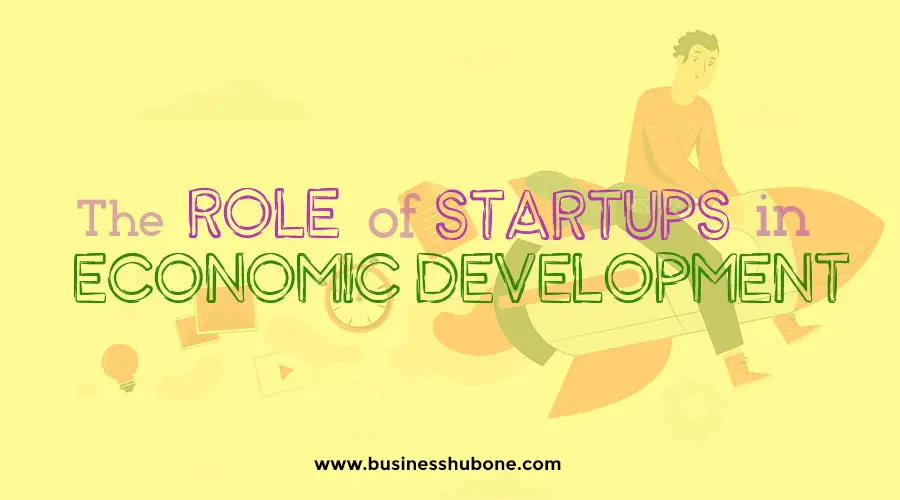 1. Creation of Employment:
 Startups need people who will help make the affairs of the company functional. Every organization is made up of a group of people who believe and understand the vision and mission of the organization and run with it. Without people, no organization can function.  As startups open up their organization they also open up job opportunities for those in need.  And this helps to reduce the rate of unemployment and in turn, it helps to reduce crime and also boosts the economy because when people are gainfully employed the economy can also flourish. The Global Entrepreneurship Monitor shows that Entrepreneurs with high potential create three times more jobs than an Entrepreneur with average potential and fifteen times more jobs than an Entrepreneur with low potential.  High potential Entrepreneurs create more jobs because of their determination and high innovations and the fact that they are able to see and take on business opportunities.
2.  Better Standard Of Living
Start -ups help improve the standard of living of people in the society . Start -ups bring in new ideas and innovations that help improve the standard of living of the people around them.  For example, a company that produces healthy products is helping improve the standard of living of their clients by offering solutions to their health. They also offer better standard of living when they employ people. They help improve their lives because now the employees work  and are able to meet their needs . Successful start -ups are those who have ambition and potential  and in doing so they grow quickly , create more jobs and in turn improve the standard of living of people through their inventions and creativity.
3. Development of Talent
Start -ups can help bring up businesses and universities that can help promote and initiate the sort of talent pools that produce start -ups. They help build new talents that initiate new start -ups and like wise improve the economy .
4. Creation of wealth
Startups always try to attract investors and in turn also help create wealth. Therefore the people of the society also get to benefit from the startups as well. They help create wealth by investing their resources and also paying their dues like taxes which also help the nation create wealth.  And the people of the society will also benefit when startups grow.
5. Increase in GDP(Gross Domestic Products)
Startups help in enhancing the economic growth in the country by supporting and encouraging more startups , making it possible to generate more revenue domestically and making human capital also flow.
Relate: GDP and Startups: Correlations and Opportunities for Growth
6. New Competitive Dynamics
Startups create a very dynamic society, they provide dynamics and competitiveness to the economic system, keeping the economy healthy, vital, and diligent. They use their innovations to create dynamic and diverse innovations that help improve the economy. Eg: New technology, transportation, and in turn help create a healthy economy for society.
7. They Promote Proactivity
Startups change the value of any society it is found in and bring in a new mindset in line with the society based on knowledge and creativity. It makes the population realize their responsibility and help them to think and act proactively towards their work and career and their society's development. It makes the people conscious of their responsibilities and helps them understand how important and impactful their roles are in their society thereby helping them concentrate on giving their best at all times to their work.
Conclusion
Start-ups are very important in any society and no society can grow to its full potential without the intervention of startups. The government can not absolutely do everything that's needed for an economy to flourish, hence, the need for start-up companies to continue to innovate and improves on existing innovations thereby creating pedestals and frameworks for the economy of the society can move for better. Startups are the solutions to the needs of the society because they provide somuch for the development of society, meeting consumer needs and creating healthy economies.