Starting a business in Nigeria|Ibadan |Lagos: The Ultimate playbook!
Today, I am sitting in one of the highest citadels of learning in Nigeria and I feel like answering this question that holds the key to the growth of Nigeria
Starting a business in Nigeria
A business in Nigeria is just like a business everywhere with a bit more difficult policy, power, economic, transportation, and telecommunication terrain.
Starting a business in Nigeria may not be as easy as any part of the world and your due diligence just might have to be based on a whole different set of criteria, have Nigerian-adapted KPIs for evaluating performance and your target audience might shrink by a few tens of millions.
Farming, technology, and the different niches carved upon the framework of technology (Health-Tech, Agro-tech, Fin-tech, E.t.c), Health, Telecommunication and just about any sector in Nigeria hold significant potential yet to be tapped.
With a population of over 200 million people, Nigeria is looked upon and proudly- maybe not so proud- referred to as the giant of Africa.
Nigeria is an interesting country to live in and there are several interesting things about doing business in Nigeria
For one, the Nigeria Banking system is an impressive one. You can send money to anyone in any part of the country and get it delivered within the minute.
Usually, when people think of starting a business, they care less about the surrounding where they are going to start the business.
The excellence of your idea is just as important as the environment in which your idea will be executed!
According to Doing Business Report 2020, Nigeria made it easier to do business in 2020!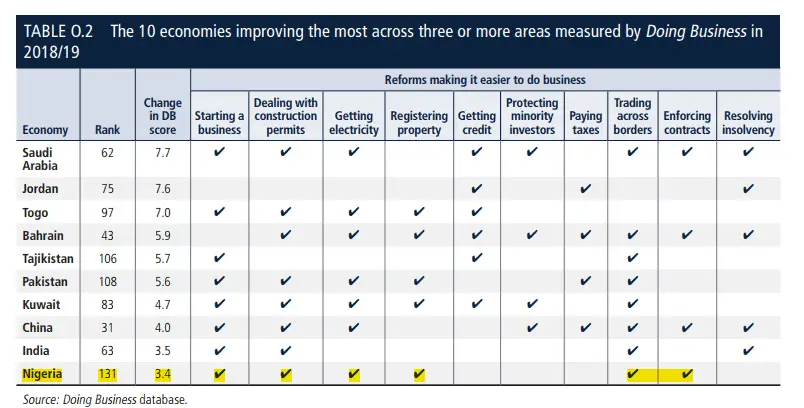 It was significantly easier to start a business, deal with construction permits, get access to electricity, register a property, trade across Nigerian borders and enforce contracts
However, despite this increase there still much to be desired as Nigeria ranks 131 out of 190 countries in ease of doing business

Doing Business report 2020
Basic business infrastructure is lacking and most companies have to provide their own amenities even as far as road construction in some cases.
An entrepreneur in a low-income economy typically spends around 50 percent of the country's per-capita income to launch a company, compared with just 4.2 percent for an entrepreneur in a highincome economy. It takes nearly six times as long on average to start a business in the economies ranked in the bottom 50 as in the top 20.

Doing Business report 2020
Power
Power is one of the dire issues facing businesses in Nigeria.
Despite Nigeria's installed capacity being reported at 12,500 megawatts, in practice, only 3,200 megawatts (Akanonu, 2018).
Outages
MTN, one of the largest mobile network operators in Africa, spends about 70 percent of its operating expenditures in the country on generator fuel, with average monthly consumption in excess of 10 million litres
(Oluwafemi, 2015)
This singular problem is a major setback to setting up a shop in Nigeria.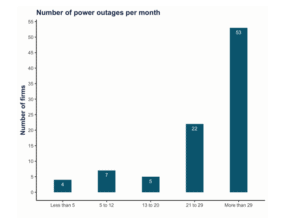 These outages and inefficiencies in the sector result in annual losses of up to 534 billion nairas or $1.5 billion (Ejoh, 2017)

Related: Hindrance to Business in Emerging markets: Nigeria power sector case study
Access to credit
Nigeria's credit scoring system is a poorly developed one, the average business encounters problems such as lack of adequate collateral and difficult application procedure in a bid to access credit – IFC 2017
The number of venture capital firms open to funding early-stage startups is quite limited compared to ecosystems present just about anywhere else in the world.
Transportation
For an industrial Business behemoth like Dangote, this becomes a real issue as transportation in Nigeria is a pain in the ass from the first mile to the last mile.
The company goes the extra mile to concern itself with the repair of critical infrastructure oftentimes in order to reduce the impact of this bad infrastructure development culture on the profits of its business.
Demography – Culture and bias
It is important to consider the addressable population when referring to Nigeria. The consumer population is over 200 million but only about 30 million have bank accounts and possibly the purchasing power to support most businesses.
Female founders of start-ups sometimes find it difficult to secure funding in comparison to their male counterparts. Odunayo Eweniyi, one of the founders of the fintech start-up PiggyBank, found that "local investors related better with men" when her company tried to raise money. She decided to stop attending investment meetings, leaving her two male co-founders to secure funding for the company.
International Outlook
In all sincerity, If you are building a global business, there is a lot of bottleneck to the legal structure in Nigeria and this makes setting up your business fairly difficult.
Andela is an African company for most of its operations but its parent company is incorporated in the United States.
Ashish Thakkar is an entrepreneur from East Africa and the founder of the MARA group. Back in 1995 when he started his business he had a block in getting credit, due to the general creditworthiness of Africa. He overcame this by setting up a shop in Dubai and getting credit as a Dubai company to operate in Africa.
Registration
Registering a business in Nigeria is fairly easy. This is if you follow the right steps and procedures as set forth by the Company and Allied Matters Act (CAMA). The 1990 Act amended in 2004 and 2020 governs the corporate affairs of Nigeria and establishes the Corporate Affairs Commission (CAC) as the administration of the Act and the general management of companies and businesses.
Under the Act, there are different ways in which you can register your business. These include a sole proprietorship, a partnership, a company, and incorporated trustees. A sole proprietorship is run by the founder and the business is not seen as a separate legal entity, while partnerships, companies, and incorporated trustees are separate legal entities in which the liability can be limited.
Briefly, a company can be:
limited by shares
limited by guarantee, or
unlimited.
Both private and public companies can belong to the above classes. A partnership can also be:
limited by shares (as set forth in the 2020 amendment) or
unlimited.
The different types of businesses although differing slightly in requirements can be basically registered following the same process outlined below.
For starting a business in Nigeria registration, these are steps to be followed:
Choose and reserve a business name
Complete the business registration forms which require stating the approved name of the business, nature of business, business address, details (names, address, and occupation) of the business owners, and their signatures.
Pay the CAC filing fees
Submit the completed forms.
This entire process provided all the required documents are available should not take more than a week.
For registering a company, the process outlined above differs as it is required to present the memorandum and articles of association (MEMART) of the company, share allocations/structure, the names of the directors etc.
Taxation
In Nigeria, companies are taxed by the Federal Inland Revenue Service (FIRS). There are a couple of taxes that a potential founder should be aware of before starting a company. The type of tax charged can vary based on the nature of the business run by the company. The following are the main types of tax levied by the FIRS.
Corporate income tax – charged on all profits of companies registered in Nigeria.
Value-added tax – charged through the seller at a rate of 5%
Capital gains tax – charged on the profits gained from trading specific types of assets known as chargeable assets.
Education tax – charged at a rate of 2% of assessable income
PAYE – Pay As You Earn charged on employee income through the employer.
Personal income tax is not charged by the Federal Inland Revenue Service but rather by the State Inland Revenue Service. For more extensive coverage of Nigerian tax law visit the FIRS website.
Regulation
Depending on the nature of the business you are planning to start, you might need to register with one or more regulatory bodies. For example, if you intend to start a business that deals in consumables (food and drugs) you will need to register with the  National Agency for Food and Drug Administration and Control (NAFDAC).
Myths you should not believe
There are a few myths associated with doing business in Nigeria: Below is a brief look at some of them.
Myth 1: You can't turn a profit in Nigeria
Even though several companies might find it hard to turn a decent profit in the light of recent developments and eventually experience failure of their core business model.
Evaluating the ShopRite failure outside the dictates of the prevailing situations would be detrimental to the image of the country. Companies like Flour Mills Nigeria Plc have been in Operation for the past 60 years and operated profitably no matter the prevailing situations
What can be done can be done!
Myth 2: The Government is not supportive
This subheading does not exist because the government is very supportive, but because, Challenges are meant to be surmounted
There are several companies in Nigeria that are totally crushing it
Steps to Starting a Business
In starting a business, there are a number of things that need to be put in place to ensure that the business thrives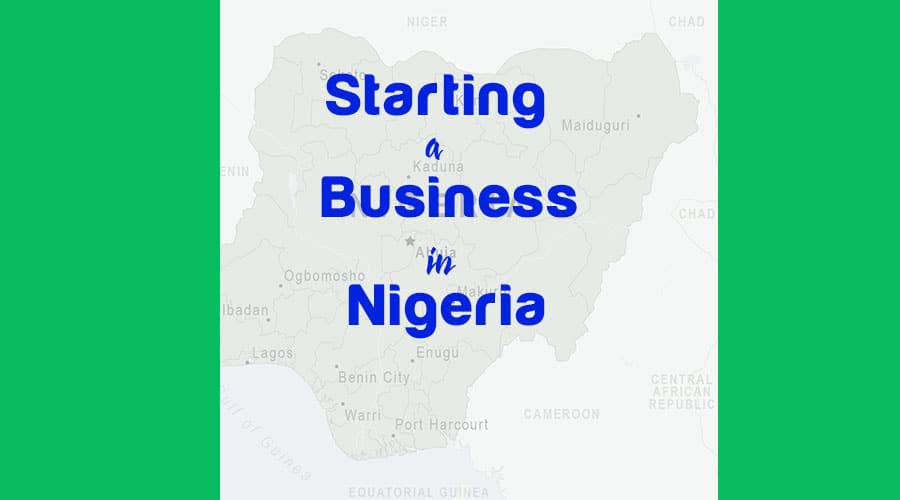 Step 1: Understand your motivation!
In starting a business, there is an absolute place for motivation and there is almost no virtue that can act as a substitute. The strength of your motivation will determine the possibility of keeping at it when the going gets tough- which is definitely bound to happen in Nigeria.
Step 2: Market research
Market Research is an inevitable step in setting up a business at any clime. It serves as a method of validating your idea as the market is the first place for testing the idea or business model.
It would be very unwise to approach the Nigerian market without first getting a solid understanding of the way in which business is done locally. It isn't like any other place. Do some research and arrive in-country as well-informed as possible.
Step 4: Collaborate with Locals and or Experts in the Field
The right collaboration has been known to always push the limits of possibility, breaking bounds and making what was before alien to become relatable.
Advantages
Establishing a presence in a new location
Increasing brand awareness
Adding capability – It is usually easier to acquire an existing business in order to expand an existing business into another sector or the establishment of a new brand!
Andela
Iyinoluwa Aboyeji and other Co-founders are an example of collaboration that works.
Jeremy who had previously founded 2u and had taken the company public was a high-profile entrepreneur in education
Christina Sass was a PhD student at Harvard. Iyinoluwa, Nadayar and Nora had also previously worked on Fors- a distance learning platform for African Universities.
Andela's is an example of how team expertise can help a company reach success!
Step 6: Develop a Business Model
A solid business model is one of the major determinants of business success. It is the description of how a business works and contains the particular roadmap to who customers are and how the business will make a profit. Every new entire needs a business model to launch new products and or services.
 Step 5: Plan Your Finances
Planning finances is an essential service in business building, and is needed to ensure that one is able to determine the viability of a business model and attract investors to the business model!
Step 7: Registration
As discussed earlier, you will need to register your business and acquire the required permits and licences as the case may be before starting business operations in the country. I strongly advise that you seek legal counsel during this process as it can be crucial to the success of your business.
In addition to registering with the government authorities, I also advise that you get a business account that will be used to carry out business transactions, even if it is a sole proprietorship. This gives you the room to delineate personal from business funds, while also boosting your professionalism.
Major Business Sectors in Nigeria: The way to go
Agriculture
Agriculture is one of the most under-tapped sectors in Nigeria. Currently, there are 82 million hectares of arable land of which only about 34 million hectares have been cultivated and several tonnes of deficit in the food production

This sector contributes the greatest percentage to the Nigerian GDP and presents prospects that make it worth considering as a viable sector!
The different diversities of agriculture in Nigeria include:
Crop Production
Livestock
Forestry
Fishing
Prospects
Nigeria's agriculture is peasant-ish in nature. This is one of the most fundamental constraints plaguing the sector as it breeds low productivity, poor response to technology, slow adoption strategies, and poor returns on investment.
This, however, also presents one of the biggest opportunities possible.
Adopting commercialization and accelerated modernization, sustainable growth, and development can help any new business achieve a profitable business easily and present a massive opportunity to scale.
Processing and Storage
Food security means food is available for consumption at the right time
and in the right form. This leaves much to be desired in Nigerian processing and storage facilities.
Although the total production of food seems adequate at the aggregate level, there is still a significant deficit as food is being consumed on a daily basis, and production has a different specific time profile. Storage and processing are critical in ensuring that the food produced at a particular period is available for consumption whenever they are required and not just when they are harvested.
This inadequacy makes processing and storage an extremely lucrative aspect of the agricultural sector with enough prospects for development.
Agro-tech
This is the application of technology to develop and improve agricultural processes, services, decision-making, and inventory management.
Zenvus: The AI for farms
 Zenvus is an intelligent solution for farms that use proprietary electronics sensors to collect data like moisture, nutrients, and pH…from the soil where the crops grow. The system also deploys special cameras to build vegetative health and detect drought stress, pests and diseases.
This innovative solution is an example of the use of technology to significantly improve agriculture.
Manufacturing
The history of industrial development and manufacturing in Nigeria has been marred with a series of policy inconsistencies and distractions attributable to the discovery of oil. In 2011, the manufacturing sector's contribution to the nation's GDP stood at 4.16% which is less than what it was in 1960(4.8%)
There is much room for improvement in the manufacturing sector and a massive opportunity for investment.
Services
Construction, Transportation, information, arts, entertainment, real estate, finance and insurance, administrative services, and professional services are all possible services that could be rendered.
In conclusion,
Starting a business in Nigeria is not as difficult as it may seem and there represents a significant opportunity for making decent profits despite the buzz around the inefficiencies and possible paralysis that plagues the sector.