Business: The Nigerian Landscape 2020
The business landscape in Nigeria is getting increasingly scary and has witnessed several modifications over the course of the year making it significantly hard to catch up.
This post brings valuable information about the business landscape in Nigeria to the forefront.
Business Landscape in Nigeria
According to Doing Business Report 2020, Nigeria made it easier to do business in 2020!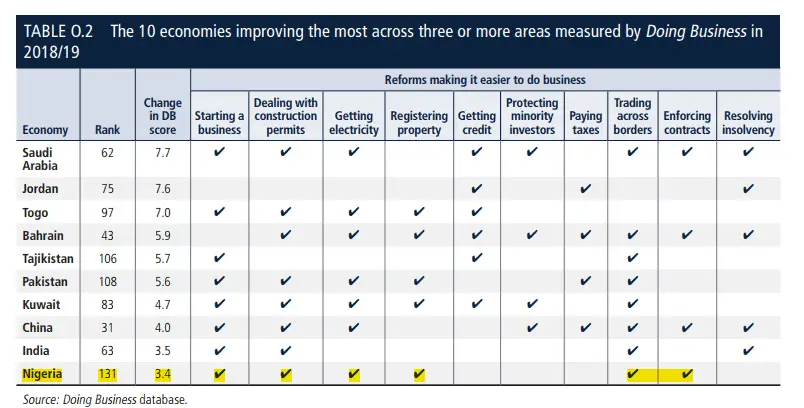 It was significantly easier to start a business, deal with construction permits, get access to electricity, register a property, trade across Nigerian borders and enforce contracts
However, despite this increase there still much to be desired as Nigeria ranks 131 out of 190 countries in ease of doing business

Doing Business report 2020
Basic business infrastructure is lacking and most companies have to provide their own amenities even as far as road construction in some cases.
An entrepreneur in a low-income economy typically spends around 50 percent of the country's per-capita income to launch a company, compared with just 4.2 percent for an entrepreneur in a highincome economy. It takes nearly six times as long on average to start a business in the economies ranked in the bottom 50 as in the top 20.

Doing Business report 2020
Power
Power is one of the dire issues facing businesses in Nigeria.
Despite Nigeria's installed capacity being reported at 12,500 megawatts, in practice, only 3,200 megawatts (Akanonu, 2018).
Outages
MTN, one of the largest mobile network operators in Africa, spends about 70 percent of its operating expenditures in the country on generator fuel, with average monthly consumption in excess of 10 million litres
(Oluwafemi, 2015)
This singular problem is a major setback to setting up a shop in Nigeria.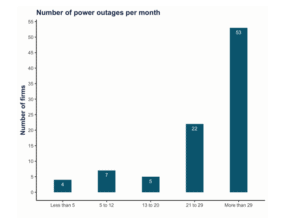 These outages and inefficiencies in the sector result in annual losses of up to 534 billion nairas or $1.5 billion (Ejoh, 2017)

Related: Hindrance to Business in Emerging markets: Nigeria power sector case study
Access to credit
Nigeria's credit scoring system is a poorly developed one, the average business encounters problems such as lack of adequate collateral and difficult application procedure in a bid to access credit – IFC 2017
The number of venture capital firms open to funding early-stage startups is quite limited compared to ecosystems present just about anywhere else in the world.
Transportation
For an industrial Business behemoth like Dangote, this becomes a real issue as transportation in Nigeria is a pain in the ass from the first mile to the last mile.
The company goes the extra mile to concern itself with the repair of critical infrastructure oftentimes in order to reduce the impact f this bad infrastructure development culture on the profits of its business.
Demography – Culture and bias
It is important to consider the addressable population when referring to Nigeria. The consumer population is over 200 million but only about 30 million have bank accounts and possibly the purchasing power to support most businesses.
Female founders of start-ups sometimes find it difficult to secure funding in comparison to their male counterparts. Odunayo Eweniyi, one of the founders of the fintech start-up PiggyBank, found that "local investors related better with men" when her company tried to raise money. She decided to stop attending investment meetings, leaving her two male co-founders to secure funding for the company.
International Outlook
In all sincerity, If you are building a global business, there is a lot of bottleneck to the legal structure in Nigeria and this makes setting up your business fairly difficult.
Andela is an African company for most of its operations but its parent company is incorporated in the United States.
Ashish Thakkar is an entrepreneur from East Africa and the founder of the MARA group. Back in 1995 when he started his business he had a block in getting credit, due to the general creditworthiness of Africa. He overcame this by setting up a shop in Dubai and getting credit as a Dubai company to operate in Africa.
Registration
Registering a business in Nigeria is fairly easy. This is if you follow the right steps and procedures as set forth by the Company and Allied Matters Act (CAMA). The 1990 Act amended in 2004 and 2020 governs the corporate affairs of Nigeria and establishes the Corporate Affairs Commission (CAC) as the administration of the Act and the general management of companies and businesses.
Under the Act, there are different ways in which you can register your business. These include a sole proprietorship, a partnership, a company, and incorporated trustees. A sole proprietorship is run by the founder and the business is not seen as a separate legal entity, while partnerships, companies, and incorporated trustees are separate legal entities in which the liability can be limited.
Briefly, a company can be:
limited by shares
limited by guarantee, or
unlimited.
Both private and public companies can belong to the above classes. A partnership can also be:
limited by shares (as set forth in the 2020 amendment) or
unlimited.
The different types of businesses although differing slightly in requirements can be basically registered following the same process outlined below.
For starting a business in Nigeria registration, these are steps to be followed:
Choose and reserve a business name
Complete the business registration forms which require stating the approved name of the business, nature of business, business address, details (names, address, and occupation) of the business owners, and their signatures.
Pay the CAC filing fees
Submit the completed forms.
This entire process provided all the required documents are available should not take more than a week.
For registering a company, the process outlined above differs as it is required to present the memorandum and articles of association (MEMART) of the company, share allocations/structure, the names of the directors etc.
Taxation
In Nigeria, companies are taxed by the Federal Inland Revenue Service (FIRS). There are a couple of taxes that a potential founder should be aware of before starting a company. The type of tax charged can vary based on the nature of the business run by the company. The following are the main types of tax levied by the FIRS.
Corporate income tax – charged on all profits of companies registered in Nigeria.
Value-added tax – charged through the seller at a rate of 5%
Capital gains tax – charged on the profits gained from trading specific types of assets known as chargeable assets.
Education tax – charged at a rate of 2% of assessable income
PAYE – Pay As You Earn charged on employee income through the employer.
Personal income tax is not charged by the Federal Inland Revenue Service but rather by the State Inland Revenue Service. For more extensive coverage of Nigerian tax law visit the FIRS website.
Related: Business Opportunities in Nigeria
Regulation
Depending on the nature of the business you are planning to start, you might need to register with one or more regulatory bodies. For example, if you intend to start a business that deals in consumables (food and drugs) you will need to register with the  National Agency for Food and Drug Administration and Control (NAFDAC).