Bamboo vs Risevest: Which is better?
The bamboo app is a legit platform that holds all its accounts at a top-tier U.S. brokerage firm, a member of the Securities Investor Protection Corporation (SIPC).
Bamboo is also registered with the Securities and Exchange Commission, and it offers over 3000 assets, including U.S. stocks, REITs, and ETFs. Stocks from well-known corporations like Netflix, Microsoft, Tesla, and Facebook can be traded.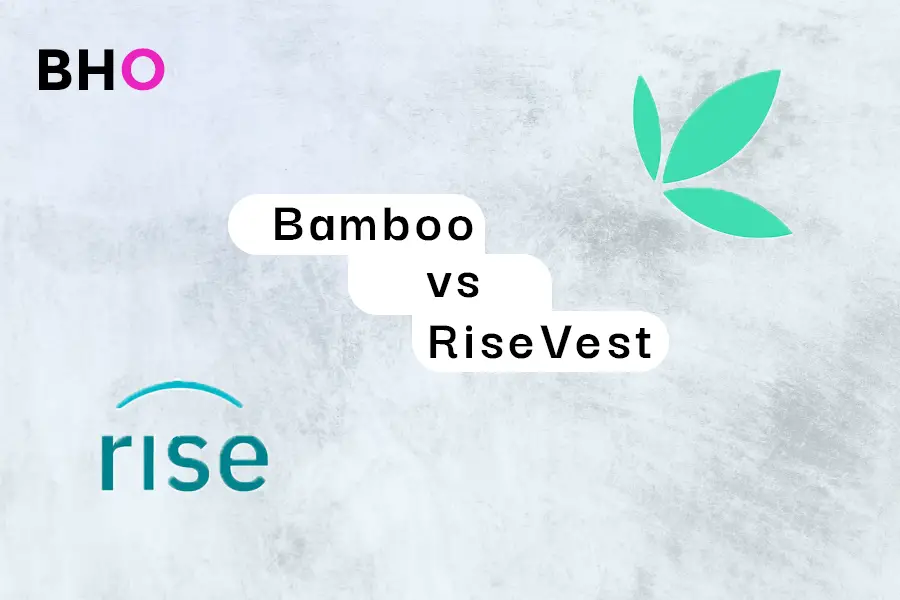 A $500k insurance policy covers each Bamboo account. It received a 4 out of 5-star rating for overall performance.
 The Bamboo app also has an excellent function that gifts stocks to someone else. You can also buy a bundle of bamboo sticks to diversify your bamboo investments (called an ETF). Required documents include a government-issued photo I.D. and a utility bill. The papers will be in the form of a picture rather than a tangible copy. Some fundamental details, such as (Verified Email Address, Verified Phone Number, Bank Account Information)
The Bamboo app allows you to keep track of your investments. After you place a withdrawal order through the app, your money will arrive in your account within 1 to 2 business days.  All Bamboo accounts are kept with a top-tier local and international brokerage firm that, as a member of the Securities Investor Protection Corporation (SIPC), protects each account up to $500,000.
On the other hand, Rise vest is a digital dollar asset manager that connects Nigerians to foreign investment opportunities through products such as Fixed Income, U.S. Real Estate, and US Stocks.
Rise vest launched in February 2020. Its focus is on making dollar investments easy for Nigerians.
The company offers three categories of investment options: real estate, U.S. stocks, and Eurobonds. Eurobond investment returns are guaranteed, while the rest have varying levels of risk. That means that you can incur losses on investment in either the real estate plan or U.S. stocks.
See Also: Bamboo vs Chaka
Important distinction between the two saving platforms.
Bamboo was founded in 2019 to give users access to stocks from all over the world, while Rise vest was launched in 2020 with the focus to make dollar investment available for all Nigerians.
Both apps partner with flutter wave as a payment processor and can be downloaded at the Apple store and google play.
Bamboo is beneficial for investing in U.S. equities such as Apple, Amazon, and Netflix. Additionally, as a payment processor, they partnered with flutter wave.
Rise vest does similar but moves further into fixed income and real estate.
A wallet can be funded for as little as one dollar on the rising vest platform, but investment begins at 10 dollars.
Bamboo differs from this, and dollars can be funded for as little as $20 while investment begins.
The Rise Vest app is a platform for people who want to invest in a dollar dominating asset without much risk. However, if you prefer a hands-on approach to asset management, the Bamboo app is for you.
The Bamboo page is lengthy and may be difficult to comprehend for a non-technical person. While Rise vest succeeds with users because of its simplicity.
See Also: Bamboo vs Trove
Although the two platforms have their uniqueness, they also share some similarities.
They both help a great deal in investing in Us stocks such as Apple, Amazon, and Netflix.
They both partner with Flutterwave as their payment processor, so they charge the standard rate when you're funding your account with a naira or dollar card. they both charge for withdrawals with a great support systems
Having identified their uniqueness and similarities, it should be added that Both platforms have different asset offerings. Your choice will depend on your risk appetite. For example, more experienced investors may prefer to invest directly in the stock markets than purchasing investment plans.
Both Bamboo and rising vest are available for download on Google Play.