Kuda bank VS Opay : Advantages of digital banking
The stress of always going to the bank, doing paper works for just a little complaint, having to stand in a queue for long periods of hours, getting unpleasant customer care responses because they are all fed up, or even having to think of ways to bring certain documents on workdays has been reduced with the introduction of digital banks.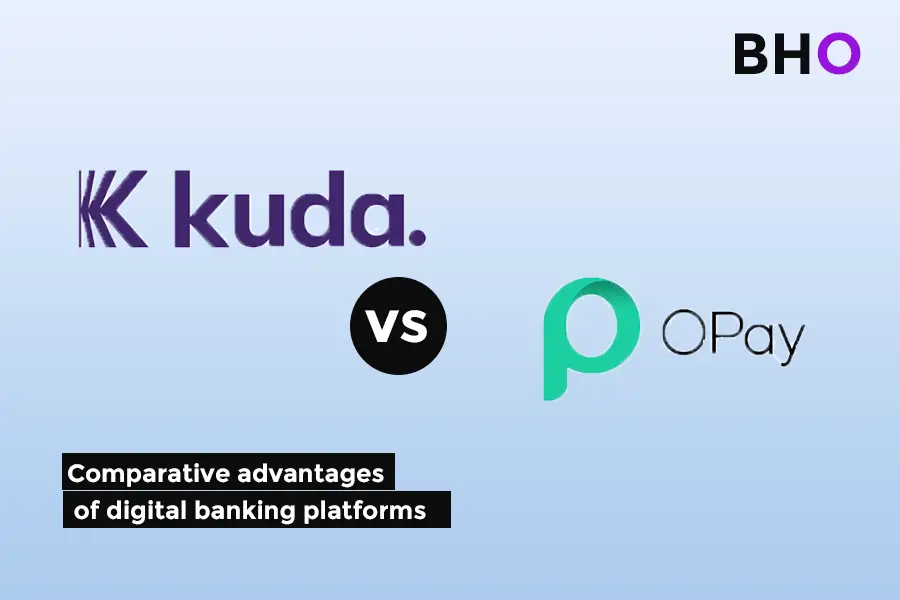 Digital Banking in Nigeria
Digital bank has been on the rise in Nigeria with certain financial benefits, such as better terms, zero fees, and online banking without stress. The idea of these digital banks is to make sure that stress is reduced and provide services that can make people run their various transactions from the comfort of their homes. It has become the new normal for business moguls, entrepreneurs, tech bros and even students who are not left out.
Although there have been a lot of these digital banks around like Mint, Sparkle, Eyowo, One bank, Rubies, and Vbank, we can for sure say that Kuda bank has been the best in serving people so far.
Just like the conventional bank, Kuda bank has its competitors, and one to be highlighted is Opay Bank.
KUDA BANK
Kuda Bank which was founded by Babs Ogundeyi and Musty Mustapha in 2019 has been in operation in Nigeria and the UK. Kuda bank has become an incredible story in the tales of digital banks thriving in the country with over 4.2 million users. Majorly, because of the benefits that this platform provides.
Benefits of Kuda banks
These benefits include:
25 free transfers to banks every month.
Free debit card.
Budgeting tools.
Kuda overdrafts.
15% annual interest on savings.
Bank connection to Payoneer.
Related Articles: Kuda bank: one incredible digital story
Although some of these benefits can be said to be among the other digital banks, Kuda bank has succeeded in being the basic all-rounder. The inclusion of these benefits was seen as a way that drew many users to this particular banking platform. The bank has well been said to be user-friendly.
Every month, Kuda bank sees to it that every user gets to have 2 free transfers to every bank however, once the transfer exceeds 25, there is a 10 naira charge on subsequent transfers.
The bank also sees to it that there is a provision for a free debit card as long as there is a sum of one thousand naira in the account. There is also no charge for card maintenance and the most amazing thing is that you can use it for over 3000 banks.
Depending on whatever financial tool is needed to track every financial transaction, Kuda created budgeting tools that are simple to use and help each user navigate their transaction based on whatever financial level tye want to start on without any stress.
Kuda overdraft is a feature that the bank has which enables the user to loan money based on how active the account has been.
Alongside all these benefits, comes the benefit of having 15% annual interest on savings. Conventional banks give a yearly interest of 1.15% on every savings. This feature definitely serves as bait for users to migrate to the use of the digital bank.
For most user who makes transactions outside of the country, the bank made available the feature for a connection to Payoneer so that each transaction that deals with foreign currency can be made with ease.
All these features have paved the way for Kuda bank to become known among the Genzs and have crawled its way up to the millennial. This however has brought about enough competitors.
OPAY BANK
Another fast-rising digital bank is Opay bank. Opay was established first by a Norwegian internet company, Opera in 2017. After a period of incubation by Opera, it was launched in Kenya as a payment service which was operated by the Opera subsidiary called O-Play Kenya Limited. It continued like this until it came down into Nigeria as a form of digital investment of Opera to digital businesses in Africa with the Nigerian market having up to $40 million, in December 2017.
This fintech platform was introduced in Nigeria with the intention to provide payment solutions like every other bank but gained recognition as a platform for getting bike transportation to various locations at affordable prices. It also served as a platform for people to make orders of food just like Jumiafood, and Safeboda. Opay has both app users and agents (merchants), With over 18 million users on the app and 500,000 agents across the country.
The bank went into a proper payment solution after the business of bike transportation became obsolete within the country. As with every other digital bank, Opay also has its own benefits. These benefits include: becoming a merchant, discounts as well as vouchers on utility bills, 15% on every saving, tools for merchants, and also PCIs.
Benefit of using Opay
Becoming a merchant on Opay is quite easy.
Opay believes that for the mass you need the mass, so they integrated the merchant feature, where you can make your own money and help provide easy services for individuals. The Opay merchant serves as an intermediary with the use of various tools to track their financial growth. They also make use of POS which people can use to withdraw, save money and also pay for respective utility bills such as electricity bills, tv subscriptions and also buy airtime or data.
Security
The PCIs on the platform help encrypt the transactions done on the app and keeps everything done safe and secured. Also, they get to scan their systems daily against any security threat which gives them an advantage against fraud.
Opay like every other fintech platform provides the benefit of a 15% interest annually on every savings. They also do as much as have a physical debit card that can be used to withdraw money from various ATMs as well as a virtual card that can also be used for transactions online. Opay can also be used to make international transactions.
Users can make 3 free transfers in a day to any bank but once it exceeds 3, they get to pay a sum of 15 nairas on any other transaction.
To top it up, both digital banks have apps that can be accessed from the comfort of their home.
Kuda Bank vs Opay
Opay and Kuda both run free transfers to other banks, where the former gives three times the limit in a day while the latter gives 25 free transfers for the month.
Both banks make use of physical debit cards and also virtual cards as well to help make transactions online even easier. The cards run on zero-fee maintenance. However, Opay virtual cards can be used to make international transactions based on the APIs used on the platform.
Both banks can give out loans. For Kuda, the loans depend on how active your account has been while for Opay, you have to download the Okash app and register before you can get a loan.
Which wallet did you prefer?

Kuda. Or. Opay pic.twitter.com/MpE8X1C4OK

— Arewa Business Hub (New acct) (@Arewa_Business_) December 14, 2022
With the similarities of both banks, we can say that the digital story is no longer the same as people within the country are making use of fintech to do most of their financial transactions. However, we can say that the reason why most people would prefer using Kuda instead of any other platform, would be the availability of investing asides from saving up money. The Kuda app provides a platform for all users to invest in shares alongside making micro-saving plans.