Top 15 Most Successful Startups in Nigeria
Over the years many startups in the world including Nigeria has being laid off due to the global issue of inflation and economic instability. Many of these startups struggle to make profits with funds raised from investors and other sources. Despite all odds, Nigeria is home to a thriving startup ecosystem, with many companies that have achieved notable success within the country and internationally.
Startups play a significant role in the Nigerian economy and are helping to drive growth, employment, and innovation. As of 2022, startups in Nigeria and other African countries raised $5.4 billion depicting their profitability and increase impact on the world's economy.
Most of these startups have all raised considerable amounts of capital from investors, which is a testament to their potential and the confidence that investors have in their business models, products, and services. So, in this article, we will unveil the best startup industry you can venture into for profit-making by giving you a run down on the top 15 most profitable startups in Nigeria.
Startups in Nigeria
Startups in Nigeria are businesses that are typically early-stage and have the potential to grow rapidly. Nigerian startups are often focused on providing innovative and product solutions to problems that are faced by the Nigerian population. Some of the most common sectors for Nigerian startups include fintech, e-commerce, logistics, and agriculture. Founders normally finance their startups and try to draw external investment to boost their businesses. Most of these startups get their finances from venture capitalists, crowdfunding, loans, family and friends.
How many startups are in Nigeria?
According to Statista, the country had an estimated number of more than 3,360 startups in 2022 making it the highest in Africa. These startups are making an immense disruption in the industries of finance, hospitality, logistics, investment, agriculture, and automobile.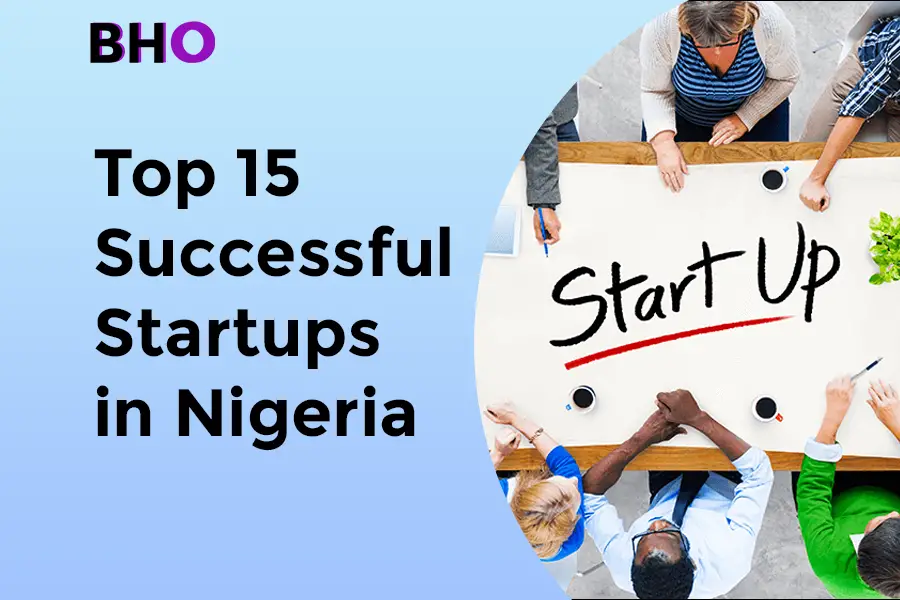 Most Profitable Startup Sectors In Nigeria
Below are the top three(3) startup industries in Nigeria. They were ranked based on the number of startups they have produced that have become the most successful in Nigeria and Africa.
Fintech
Fintech, known as financial technology companies are the most successful startup industries in Nigeria. They provide seamless digital financial solutions to people ranging from lending to investments, and savings. Fintech has the highest amount of funding raised by startups in Africa. As of 2021, there were over 144 fintech startups in the country. Some of these companies include Flutterwave, Kuda Bank, and Carbon and they have become some of the biggest startup platforms in Africa.
The government's dedication to advancing financial inclusion through cutting-edge technologies has created an environment that is supportive of this industry's growth. They provide solutions so that consumers can manage their financial affairs more swiftly and conveniently. Fintech provides many opportunities for entrepreneurs that want to venture into it. Some of these are:
It provides personal finance management apps
Fintech deals with blockchain technology and allows people to buy, sell, and trade cryptocurrencies.
They provide online or digital lending platforms and payment methods.
They provide AI and big data services which enables businesses to deliver services and products to customers through their previous purchases and financial status.
E-commerce
E-commerce is another profitable startup industry in not only Nigeria but globally. In 2021, retail e-commerce sales amounted to approximately 5.2 trillion U.S. dollars worldwide, according to Statista. By 2025, experts foresee e-commerce sales to attain $7.53 trillion, providing approximately a quarter of gross retail sales.
This sector provides Nigerians with a convenient and affordable way to shop online for a variety of goods and services, from groceries to electronics to fashion through their mobile phone. Some of the most notable trending startups in e-commerce are Jumia, Cars45, Jiji, and Konga. Here are some of the great opportunities found in this startup industry:
This sector provides a wide range of options for business owners of different types, whether your startup works as an online marketplace, auction, or distributor.
It enables startups to connect with a worldwide audience, opening up new markets and income opportunities.
E-commerce makes it simple to use data and analytics to boost growth. Businesses may decide wisely about marketing, product development, and pricing by gathering and evaluating data about customer behavior and preferences.
it provides low startup and overhead costs.
Ag-Tech
The agricultural sector is one of the boosters of Nigeria's economy. Thus, in recent years, there has been a rise in the number of companies dealing with the challenges in the agriculture sector through technology. Agric-Tech provides technological and digital tools like automation and data analysis and addresses issues such as food scarcity and farmer access to loans.
Noteworthy companies like Farmcrowdy, Thrive Agric, Agro-Mall, and Crop2Cash are the leaders showcasing Nigeria's prominence in the evolving Agric-Tech sector. Agric-Tech provides several employment opportunities, access to different types of farming, loans, and aid to farmers.
Top 15 Most Successful Startups in Nigeria

Below are the most successful startups in Nigeria
Interswitch
Capital raised: 110 million ( May, 2022)
Annual revenue:$262.9 million
Employment growth: (501-1000 employees)
Total funding: $320.5 million.
Sector: Fintech/ Digital Payment
Location: Lagos, Nigeria
Interswitch, established in 2002 by Mitchell Elegbe, is a prominent African FinTech firm offering comprehensive digital payment and transaction processing solutions to individuals, governments, banks, and institutions. Renowned for over a decade, Interswitch enables seamless electronic money movement, solidifying its position as a leading player in Nigeria's financial technology sector with a value of over $1 billion. It is famous for its point-of-sale terminals, Quickteller and Verve which are the largest domestic debit card method in Africa
Flutterwave
Capital raised: $250 million (2022)
Annual revenue: $92.8 million
Employment growth: 25% (151 – 200 workers)
Total Funding: $475 million
Sector: FinTech
Location: Lagos, Nigeria
Flutterwave is one of the profitable fintech startups founded in 2016 by Iyinoluwa Aboyeji, Olugbenga Agboola, and Adeleke Adekoya. It stands as one of the rapidly expanding global payment companies. Since its inception, the company has facilitated nearly $2 billion in transactions and 25 million payment processes across more than 33 African nations where it presently operates.
Flutterwave's clientele includes merchants, banks, transaction service providers, and various businesses, contributing to its valuation of over $3 billion.
Related: Flutterwave Complete Review
Moniepoint (formerly TeamApt)
Capital raised: $50 million ( 2022)
Annual revenue: $100 million
Employment growth: (589 employees)
Total funding: $170 billion
Sector: Fintech
Location: Lagos, Nigeria
Moniepoint (formerly TeamApt) is a Nigerian fintech leader, offering business payment and banking solutions. It was founded by Tosin Eniolorunda in 2015 and functions as a digital platform simplifying financial transactions for banks, individuals, and businesses. It serves 26 financial institutions and has processed $160 million in transactions monthly.
Notably, Moniepoint is an agency banking channel of TeamApt empowered through mobile apps and point-of-sale terminals. It provides services like cash withdrawal, deposit, fund transfer, airtime purchases, and bill payments. Moniepoint caters to 400,000 Nigerian SMEs with diverse features.
Moove
Capital raised: $181.8 million
Annual revenue: $152.5 million
Employment growth: 176% (425 full-time employees)
Total funding: $334 million
Sector: Fintech
Location: Lagos, Nigeria
Moove is a successful mobility fintech startup established in 2020 by Ladi Delano and Jide Odunsi. It pioneers revenue-based vehicle financing and financial services for mobility entrepreneurs in ride-hailing, logistics, and instant delivery. Moove offers vehicles at a weekly rental rate, with financed cars completing trips across multiple cities like Ibadan, Johannesburg, Mumbai, and Nairobi.
Bamboo
Capital raised: $15 million (Jan 2022), 17.4 million (March 2022)
Annual revenue: $7.4 million
Employment growth: 68%. (0ver 150 employees)
Total funding: $33.6 million
Sector: Wealth FinTech
Location: Lagos, Nigeria
Bamboo was established in 2020 by Yanmo Omorogbe and Richmond Bassey. The platform functions as a brokerage app that enables real-time buying and trading of US stocks. Also, In-app tutorials simplify investment basics for newcomers. Additionally, Bamboo's API product, "Powered by Bamboo," facilitates access for B2B clients like asset managers and fintech companies to integrate Bamboo into their offerings, granting customers global securities access.
Jumia
Capital raised: $400 million (2021)
Annual revenue: $0.22 bullion
Employment growth: (4000 employees)
Total funding: $ 1.2 billion
Sector: E-commerce
Location: Lagos, Nigeria
Jumia stands as a prominent e-commerce platform known as one of Africa's biggest market place. This Pan-African technology company connects millions of consumers and sellers through its marketplace and is supported by its logistics and payment services.
With over 100,000 active sellers, it was Jumai in 2012 by Jeremy Hodara, Sacha Poignonnec, Tunde Kehinde, and Raphael Kofi Afaedor. The company's reach extends to nations such as South Africa, Egypt, and Morocco, and it has subsidiaries like Jumia Travel, Jumia Foods, Jumia Deals, Jumai Pay, Jumai Logistics and Jumia One. The company's annual profit before tax is $0.16 billion
Konga
Capital raised: $38.5 Million (2019)
Annual revenue: $56 million
Employment growth: (1001-5000 workers)
Total funding: $79.5 million
Sector: E-commerce
Location: Lagos, Nigeria
Konga established in 2012 by Prince Nnamdi Ekeh and Sim Shagaya, is a well-known Nigerian e-commerce platform resembling an online mall. It offers a diverse selection of items, including books, groceries, and phones. It was acquired by Zinox and has gained recognition as Africa's premier online retailer, often compared to Amazon.
ThriveAgric
Capital raised: $56.4 million (2022)
Annual revenue: $41.5 million
Employment growth: (11-50 workers)
Total funding: $59.5 million
Sector: Agric-Tech
Location: Abuja, Nigeria
Thrive Agric is an Agric-tech startup that supports farmers in obtaining funding. Since its establishment in 2016 by Ayodeji Arikawe and Uka Eje, Thrive Agric has engaged with 19,000+ farmers and cultivated on more than 150,000 acres. Some of its notable investors include Y Combinator and Ventures Platform. Likewise, it has collaborated with FCMB, Sterling Bank, and Leadway Assurance to provide better services for its customers.
Reliance Health
Capital raised: $40 million (Feb 2022)
Annual revenue: $48.4 million.
Employment growth: 9% (93 employers)
Total funding: $48.3 million
Sector: Health-Tech
Location: Lagos, Nigeria
Reliance Health, established in 2016 by Matthew Mayaki, Opeyemi Olumekun, and Femi Kuti, utilizes technology to enhance healthcare accessibility and affordability in developing markets. The Nigerian health-tech firm offers creative health insurance options, telemedicine, and a mix of partner and proprietary healthcare services, benefiting individuals and businesses.
Omnibiz
Capital raised: $15 million (2022)
Annual revenue: $81.4 million.
Employment growth: 81% (201 -500 employees)
Total funding: $25 million
Sector: E-commerce
Location: Lagos
Omnibiz is a B2B e-commerce platform in Nigeria that employs technology to link fast-moving consumer goods (FMCG) manufacturers with retailers, thereby digitizing the supply chain process. Established in 2019 by Deepankar Rustagi and Chinedu Azodo, Omnibiz unites retailers across Nigeria and Ghana through this system. The startup's goal is to enhance retailers' ROI by enabling convenient order placement and free doorstep delivery. They provide business management and marketing solutions to African SMEs.
Vendease
Capital raised $30 million (Sept 2022)
Annual revenue: $19.2 million
Employment growth: ( 188 workers )
Total funding: $43.3 million
Sector: E-commerce / Agric-Tech
Location: Lagos, Nigeria
Vendease is a Y Combinator-supported online marketplace that streamlines food procurement for African food businesses. Serving 8 cities in Nigeria and Ghana, Vendease enables restaurants to access affordable food supplies through its digital platform, offering guaranteed 12-hour delivery. The startup was founded in January 2020 by Tunde Kara (CEO), Olumide Fayankin (COO), Gatumi Aliyu (CPO), and Wale Oyepeju (CTO).
Paystack
Capital raised: $1.3 million (2016), $8 million (2018)
Annual revenue: $54.3 million
Employment growth: (over 261 employees)
Total funding: $11.7 million
Sector: Fintech
Location Lagos, Nigeria
Founded in 2015 by Shola Akinlade and Ezra Olub, Paystack stands as a prominent Fintech startup in Nigeria, specializing in payment processing. It caters to merchants, aiding them in receiving payments from customers. The platform supports various payment methods such as credit cards, debit cards, money transfers, USSD, and mobile money. Some of its competitors are Flutterwave and Remita.
PiggyVest
Capital raised: $1.1 million (2018)
Annual revenue: $10,0 – $15.0 million
Employment growth: (105 people workers)
Total funding: $1.2 million
Sector: Fintech / Agric-Tech
Location: Lagos, Nigeria
PiggyVest is a popular Nigerian Fintech firm founded in 2016 by Ayo Akinola, Joshua Chibueze, Nonso Eagle, Odunayo Eweniyi, and Somto Ifezue. It emerged as PiggyBank.ng and rebranded as PiggyVest. It simplifies savings and investments via its app, allowing debit cardholders to automate contributions.
Users select plans for automatic monthly, weekly, or daily deductions, accessible only on fixed dates. With 1 million+ users, PiggyVest facilitated $40 million in savings. In 2022, they acquired Abeg, and rebranded it to Pocket, and partnered with Bamboo to get stock investments. PiggyVest also offers agricultural investment opportunities from N 5,000.
Cowrywise
Capital raised: $ 3 Million (2021)
Annual revenue: $105 million
Employment growth: (45 full-time employees)
Total funding: $3.3 million
Sector: Fintech/ digital banking
Location: Lagos, Nigeria
Established by Edward Popoola and Razaq Ahmed in 2017, CowryWise stands out as a prominent Nigerian startup, giving premium financial services to the general public. This platform allows individuals to enroll in investment plans, automating monthly transfers from their savings accounts to their CowryWise accounts.
Notably, this yields nearly twice the interest compared to traditional banks. Originally resembling PiggyVest, CowryWise has transitioned to address the issue of limited investment options for the masses in Nigeria, aiming for 10 million registered users by 2025, with 220,000 users currently onboard.
Yellow Card
Capital raised: $15 million (2021), $40 million (2022)
Annual revenue:$23.1 million
Employment growth: (198 employees)
Total funding: Over $50 million
Sector: Cryptocurrency
Location: Lagos, Nigeria
Yellow Card, established in 2019 by Chris Maurice, is a digital currency exchange platform aimed at simplifying money transfers by converting local currency into bitcoins. This startup collaborates with local merchants, vendors, and convenience stores, enabling them to trade vouchers for cryptocurrencies. Specifically catering to Nigerians, Yellow Card facilitates the purchase and sale of Bitcoin, Ethereum, and various other cryptocurrencies.
Conclusion
In Nigeria, the most profitable startup areas are Fintech, e-commerce, and Agric tech. These industries have seen the rise of very successful startups not only in Nigeria but around the world, especially in Fintech. Companies like Interswitch, Jumia, Moove, and Flutterwave have made a lot of money and are growing quickly in different countries. Their big successes show how much potential there is in Nigeria's market and inspire new entrepreneurs to follow their dreams and help the country's economy grow.