Digital Lending in Nigeria
Introduction
Digital lending is a rapidly growing sector in not only Nigeria but in other countries around the world. The rate of emerging new digital lending platforms is on the high side and this growth is driven by several factors including the increasing availability of smartphones and the Internet. Well, today's GenZ and millennials hardly live without their smartphone which they use to carry out most of their daily activities, including financial transactions. So, with digital lending platforms being made easy via smartphones, it becomes a lifeline for them to get quick financial aid.
Digital lending companies are financial technology (fintech) companies that allow individuals and businesses to apply for and receive loans through online platforms. This is in contrast to traditional lending, where borrowers must visit a physical bank or financial institution to apply for a loan. These fintech companies entail various business categories like peer-to-peer lending, credit builder cards, investment loans, mortgage loans, debt consolidation, and business loans.
In 2022, the Nigerian government mandated all digital lending platforms to register with the Federal Competition and Consumer Protection Commission (FCCPC). So, far 173 digital lending platform has been approved in the country providing more easy access to credits for Nigerians. In this article, we will take a closer look at these digital lending companies in Nigeria while examining their strengths and pitfalls.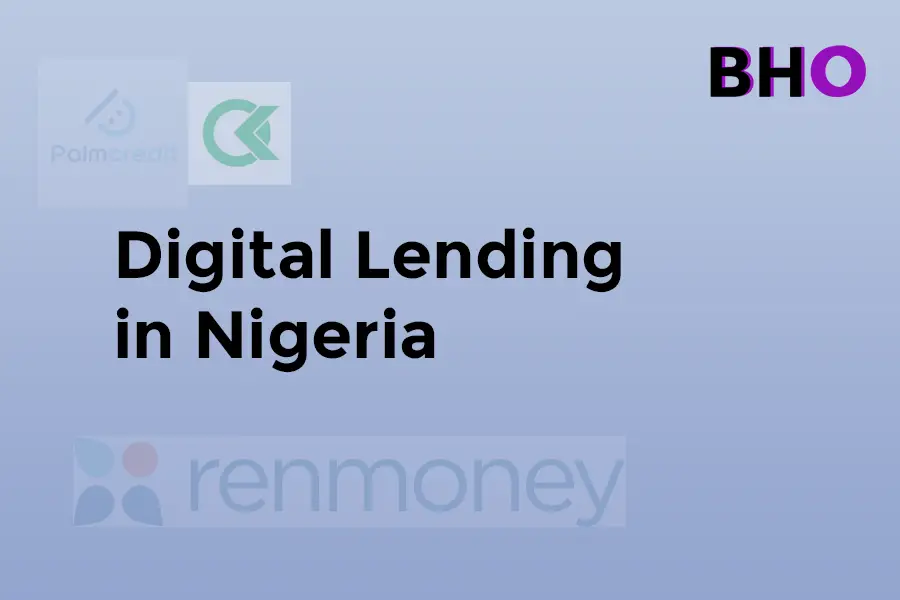 Digital lending and Micro Loans
Nigeria is not a loan-friendly economy because of the rigorous process that comes with getting micro to major loans from traditional banks or institutions in the country. However, digital lenders have changed the space and made it easier for individuals to access micro-loans. Even though the interest rate is sometimes detrimental to consumers, it represents a lifeline for many in a cash crunch. Here are some of the key benefits of digital lending platforms for microloans:
Easier to apply for loans
These companies enable individuals to get loans fast and easily. It reduces the stress that comes with informal borrowings and standing in queues to get microloans. They give out loans conveniently at no cost.
Ideal for first-time borrowers
Digital lending companies do not need a credit history or proof regarding their loan repayment habits to give first-timers loans. It enables microloan borrowers to escape from traditional lending criteria of credit history and paperwork. However, your fast repayment of loans and credit history with them determines the next loan amount to be given.
No Collateral
They do not need collateral or guarantors to approve or disbursed micro loans. Your smartphone, personal details, and KYC details do the trick.
Fast loan processing
It decreases the time spent on conducting loan applications in branches with flimsy mistakes. Digital lenders approve and disburse micro loans within minutes at lower interest rates.
Choice of loan
Customers can choose the kind of loan and loan repayment method they want which hardly comes with traditional lenders.
Active players in the Digital lending space in Nigeria
There are numerous digital lending platforms in Nigeria that are licensed to operate by the Central Bank Of Nigeria (CBN) and the Nigeria Deposit Insurance Commission (NDIC). Below are a few of them:
Carbon
Carbon is a popular Nigerian fintech company established in 2016. It was formerly known as Paylater and they offer personal and business loans between 2,500 to 1 million naira.
Renmomey
Renmoney is a Nigerian Fintech Microfinance bank established in 2012 and situated in Lagos, Nigeria. They provide accessible financing solutions for personal needs and small and medium-sized enterprises (SMEs). Their loans range from ₦6,000 to ₦6,000,000 without collateral.
Palm Credit
Palm Credit is a personal loan app owned by New Edge Finance Limited, a financial technology company in Nigeria. They give loans from ₦10,000 to ₦300,000 and offer other services like buying airtimes and data bundles.
Okash
This is another popular loan app in Nigeria and it is a subsidiary of Opay. It is owned by Blue Ridge Microfinance Bank Limited and they give customers and businesses loans from ₦3,000 to ₦500,000.
Fair money
Fair money is one of the best lending platforms in Nigeria. They provide users with the ability to manage finances, save money, pay bills, transfer funds, and purchase airtime at discounted rates. Their loan amount is from ₦1,500 to ₦1,000,000.
KiaKia
Kiakia meaning fast fast in Nigeria is a digital money lender for Nigerian businesses established in 2016. It uses the Peer 2 Peer Marketplace lending model and focuses on helping MSMEs with loans. For years they have lent out over ₦12,400,000,000 to their customers.
If you are interested in a deep delve into the differences between these apps, we have written these articles
Active Players on a global scale
Digital Lending platforms have boosted the economy of many countries with the different loans given to individuals, companies, and businesses. Here are some of the big fintech players in the world:
Akulaku
Akulaku, developed by Silvrr Vision Co., Ltd., is the pioneering e-commerce app in the Philippines offering instalment purchases and credit-free online loans. It operates in various countries, including Malaysia and Indonesia. The app allows customers to shop online with installment plans and instantly borrow up to 2,500 PHP for first-time users.
Avant
Avant is a consumer lending platform, serving personal loans and credit cards through WebBank in most states. Their loan amounts start at $2,000 and cater to debt consolidation, business expenses, emergencies, and home improvements.
FinAccel
FinAccel is a financial technology company that operates the "Buy now, pay later" service, Kredivo, in Indonesia. It utilizes data analytics to automate credit risk scoring and access credit in Southeast Asia. Kredivo allows e-commerce buyers to apply for instant credit and repay gradually
KrazyBee
KrazyBee is India's Largest Student Credit Platform founded in 2016. It enables college students to shop online and pay through flexible monthly payments. It offers installment-based purchases without credit history or cards, covering electronics, apparel, and more.
Tally Technologies
Tally Technologies, founded in 2015 provides business solutions for 30+ years to MSMEs globally. Its headquarters is in the United States but it has over 3 million users in 100 countries, Tally is a preferred financial automation company, helping members pay off credit card debt.
Prosper Marketplace
Prosper Marketplace is a San Francisco-based financial services company, that offers personal borrowing up to $50K with next-day funding. It allows individuals to request loans, and credit cards, and make personal loan investments.
Younited
Younited operates as a digital bank but focused on loans. It is located in France and users can request up to €50,000 online, with repayment options of up to 84 months, all processed instantly
Digital lending and the SME landscape in Nigeria
SMEs and MSMEs (Micro small and medium enterprises) are a big boost to Nigeria's economy. However, these businesses find it difficult to raise capital for their business. Most of them do not have the collateral, credit history, lending fee, and guarantors to access these loans from traditional banks.
However, digital lending platforms have become major boosters and sustainers for these MSMEs and SMEs.They offer fast and convenient ways for these small businesses to access loans without stress. Most of these loan apps offer loans up to 20,000,000 naira for businesses. This enables MSMEs to easily operate, buy pieces of equipment, expand their customer base, and improve efficiency in Nigeria's competitive business landscape.
Digital lenders can use machine learning algorithms to quickly evaluate a business's creditworthiness and risk profile, providing a decision on a loan application in a matter of hours, if not minutes. This has made it possible for MSMEs and SMEs to access financing that they might not have been able to obtain from traditional lenders.
Business owners do not need to submit physical copies of documents or pass through lengthy applications. They can ensign and send their documents via their smartphones and get loans within minutes. MSMEs have flexible loan options and payments date via digital lending platforms.
Fintechnolization and enabling businesses
One of the biggest setbacks for lending in Nigeria is access to data on the creditworthiness of individuals and businesses. A popular way among digital lenders to mitigate this risk is lending against turnover. This is a type of loan that is based on a company's monthly sales or revenue. Companies that service businesses can give companies access to loans based on the data that they derive from doing business with the company over time.
Banks are also able to give loans to their customer under this framework. Like Access Banks payday loan/salary advance gives instant loans to both salary and non-salary earners with no documentation or collateral because they are regular customers.
Also Access Banks LATO awards loans to none salary earners who have been their customers for over six months with a good credit history. Also, Earnipay gives loans to customers using data from payroll management.
Case Study
TradeDepot is a popular software company for consumer goods distribution company founded by Onyekachi Izukanne in 2016. It is a big retail company that has aided retailers and wholesale traders in Lagos and the Southwest. Initially focused on making milk accessible to retailers through technology. Now, it offers food, beverages, and personal care products in Lagos and Ibada.
Recently, TradeDepot secured a $10 million pre-series B funding, expanding into financial services that allow retailers to borrow money up to N40,000 based on their credit score from their buying history with the company.
Challenges in digital lending
Globally, digital lending platforms have been facing some downturns that affect the efficient approval of loans and disbursement. Here are a few of them.
Determining who to give loans to:
Since digital lending is not physical and does not require serious documentation they give loans to whoever applies for it without fully knowing the person. Many borrowers who are interested in getting loans do not have a traditional credit history. This can make it difficult for lenders to assess their creditworthiness, and it can lead to higher interest rates or denial of loans.
. Data Collection
Getting a borrower's data is quite difficult for digital lenders. Hence, digital lenders seek effective AI and machine learning implementation to streamline lending and identify their target borrowers. Qualifying for credit types heavily relies on your credit history, reflecting your credit management and payment records over time. These lending companies use Ai automation to get the details they can only lay their hands on.
How to recover loans;
Recovering loans is a challenge for lending platforms. Fraudulent borrowers often refuse to repay, making loan retrieval difficult, even with BVN and late fees in place. Digital lending companies face persistent obstacles in this regard.
Data security and privacy
Digital lending relies heavily on the collection and analysis of personal data, which raises concerns about data security and privacy. Lenders need to ensure that they have adequate security measures in place to protect customer data, and they need to be transparent about how they collect and use this data.
Fraud and cybercrime
The digital lending space is a target for fraud and cybercrime. Lenders need to have robust fraud prevention measures in place, and they need to be vigilant about the latest cyber threats.
Regulatory compliance: The regulatory landscape for digital lending is constantly evolving. Lenders need to stay up-to-date on the latest regulations, and they need to ensure that they are compliant with all applicable laws and regulations
Conclusion:
The 21st century has seen the rise of digital lending in Nigeria and the world. These companies have positively impacted individuals and businesses with seamless loans. Despite facing challenges and dealing with fraud, they remain among the best in providing quick and accessible credit to Nigerians.