What are the challenges of running an e-commerce business
E-commerce, since its inception in the early 20th century, has proven to be a force that has changed the scene of Commerce greatly. Almost every imaginable product and service is available through e-commerce transactions. Sales of edible products, books, plane tickets, music, and financial services such as online banking and stock investing are all conducted online. Examples of thriving e-commerce businesses include Alibaba, Walmart, Amazon, eBay, Jumia, Wayfare, and many more
Ecommerce permeates every business sector and operates at all levels including business-to-business, business-to-consumer, consumer-to-consumer, and consumer-to-business. These manifest in different forms such as retail, dropshipping, digital products, wholesale, subscription, services, crowdfunding, etc.
E-commerce is also known as electronic commerce enjoys global adoption owing to it's numerous benefits. One of the greatest advantages of e-commerce is the convenience and lack of time constraints. Businesses are conducted from the comfort of the homes at any time of the day. Also, E-commerce affords many businesses the luxury of offering a greater amount of products online than they carry in their local stores, while many stores that only exist online may offer consumers exclusive inventory that is unavailable elsewhere. Other benefits of e-commerce include; Personalization and customer experience, global marketplace, and minimized expenses.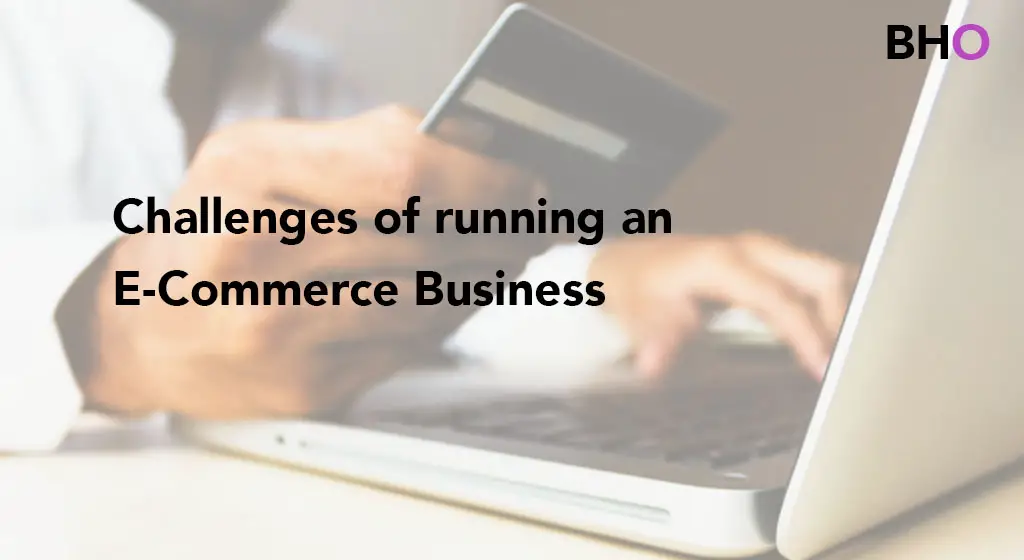 What are the challenges of running an e-commerce business?
However, for all the benefits of e-commerce, it is not without its challenges. Setting up and running an online business presents its own share of ordeals just like traditional commerce. These include:
Brand Recognition and Customer Retention
Due to the millions of businesses online it might be difficult for a new start-up business to gain instant recognition, patronage, and retention of customers. Even some of the biggest businesses in the eCommerce segment still struggle to retain their customer base. This can lead to many factors such as the availability of several similar options, the evolving expectation of the consumer, the inability of business owners to provide a pleasant shopping experience, and sometimes more substantial offers and discounts available on other platforms. Customer loyalty is very important in determining a business's success. This is achieved largely by investing in building a steady and rewarding relationship with customers over time as well as employing every channel of communication to materialize and sustain this relationship. Many businesses fail to do this and hence do not thrive.
Attaining Quality website traffic and visitor conversion.
While building and running an e-commerce online store or website is hard, receiving quality converting traffic is even harder. According to Philip McCluskey, commercial director at One erTH, said the average conversion rates globally are less than 3%, making driving relevant traffic to your site a hurdle. The internet is increasingly becoming too crowded and noisy, therefore, engaging the customer and getting their attention also demands more attention and effort. The effort and cost of designing an attractive website, maximizing the content on your website through SEO and several other activities needed to sustain quality traffic can be quite a lot for small businesses to handle.
Competition
While competition is a challenge for every business enterprise it is much more disturbing in the online space. The internet is an extremely competitive environment as it offers everyone an equal platform and hence an equal opportunity. While a local business might have only competitors within its region to contend with, on the internet, it deals with fierce competition from hundreds of other businesses offering the same products or services to the same target audience across the globe. The larger the market, the tougher the competition. Even the most niche brands are not left out as they also have to fight hard to carve a place for themselves. Yet every sector in the eCommerce space is set to get increasingly congested and competitive over the years.
Achieving Sustainable growth
Increasing sales is the short-term goal of every business but in the long run, it is the rate of sustainable growth that accrues to real profit. Sustaining increased recognition and patronage over time in the online space can be quite tough S there are a million others trying to do the same. However, this is achievable by consistently finding ways to cut inventory costs, reduce shipping costs, control order returns, and improve marketing efficiency.
Data Security Issues
Cyberattacks often compromise the security of many eCommerce websites by infecting them with viruses and may even compromise the security of registered customers' data. Also, hackers easily access confidential information, including credit card details. This is one of the greatest challengse to overcome in effectively running an eCommerce business. It is indeed one of the biggest nightmares of every eCommerce business owner. Many big online businesses have suffered several cyberattacks which have been major setbacks and in worse cases may end the business.
Trust Issues
Due to the remoteness involved in conducting online businesses, consumers are sometimes wary of purchasing products online. Online business owners do not have the luxury of establishing a rapport with customers in person which makes it more difficult to establish trust. There is a need to take all necessary precautions to present the business as credible. Even when all precautions are taken, a segment of the buying public may not still feel comfortable providing its payment information on the Internet or establishing product quality. However, it often helps to become certified by one of the credible online security organizations such as Verisign and the Internet watchdog organization TRUST, as this would help in putting customers at ease.
Lack of Expertise or Limited Knowledge of Internet Use
Running an online business requires a high level of understanding of computer and internet usage. Business owners need to possess more than basic knowledge of the Internet to conduct business online. Important skills include basic technical knowledge of phone or computer use, knowing how to set up a website or online page for business purposes, how to generate traffic, and how to market a business online. Lack of these skills will require a business owner to employ the services of an Internet marketing company which will incur greater costs.
Conclusion
These and many more are the challenges of running an online business. Nonetheless, these challenges do not render running an e-commerce business totally impossible, as many businesses have thrived in the digital space for decades. There are several ways to overcome the various challenges of establishing and running an E-commerce business.