Mobile Money and Financial Inclusion in Africa
Introduction
Mobile money has enabled Africans to access funds, especially in rural areas where there are no banks and people do not have the required documents to open accounts. As a result, mobile money has been the primary vehicle for mobile inclusion in Africa. It has achieved massive success, especially in Kenya through M-Pesa, the pioneer mobile money platform, and in Sub-Saharan Africa via Vodacom, M-Pesa, and others. If you're interested in finding out more about the role of mobile money in ensuring financial inclusion in Africa, this article is for you.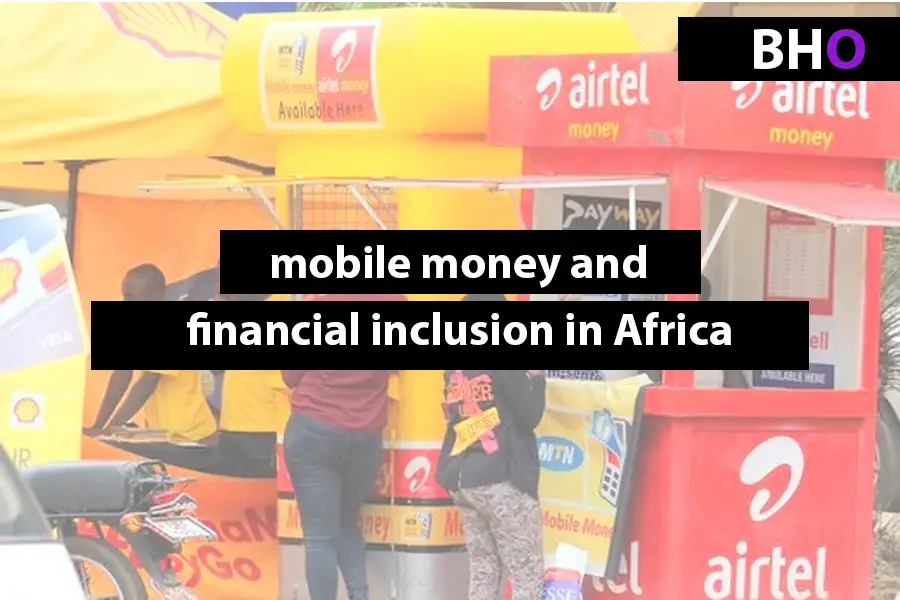 What is Mobile Money?
Mobile money is a financial innovation that allows people receive and send money via their mobile phones. It was created as a means of encouraging financial freedom and growth. A study has shown that with the introduction of mobile money accounts, several people, up to 194,000 people, have been out of poverty. The study further indicates that mobile money accounts were especially beneficial for women who could have savings without their husbands' permission. Mobile is also a fast and efficient means of sending and receiving funds from family and friends during needs crises. It reduces the likelihood that those impacted by a financial crisis will descend into poverty. 
History of Mobile Money
Mobile money M-Pesa was introduced by Kenyan telecommunications operator Safaricom. M stands for mobile, while Pesa is Swahili for money. M-Pesa became the pioneer mobile money platform in the year 2007. M-Pesa has expanded its services in over six countries. In 2011, 20 million users of M-PESA transferred $500 million in a month. It was created to serve Kenyans in the rural areas who had no access to banks or the requirements for opening a bank account. It is an innovation that has helped ease the stress of not owning a bank account.
Before mobile money, it was challenging to send money across to people who had no bank accounts. In a similar innovation before the introduction of mobile money, people had to send airtime to their loved ones whom they wanted to give money and had no access to bank accounts; their loved ones searched for people who needed the airtime to buy from them. That means was not reliable as it posed some problems.
Most of the time, the people ended up not getting total value for the airtime or not getting a buyer in time. Mobile money was created in response to the need to send money across from person to person.
 Several other platforms like MTN mobile money and Orange mobile money have arisen after the creation of M-Pesa and are reasonably successful. As a result, adults have more mobile money accounts than conventional bank accounts in African countries like Cote d'Ivoire, Somalia, Tanzania, Uganda, Kenya, and Zimbabwe.
How does Mobile money work?
The Mobile money service allows its users to deposit, withdraw, transfer money, pay for goods and services, access credit and savings with their mobile device. A mobile money system is typically a tiny software embedded on a SIM card. The processes can be carried out via the most inexpensive phones or the most sophisticated phone through USSD or sim tool kit (STK). The platform users are charged a small fee for sending and withdrawing money using the service.
The customers can deposit and remove cash from any certified network of agents that includes airtime resellers and retail outlets acting as banking agents. There are several mobile money operators in Africa, and they all have the same modus operandi. To change this digital value into cash, a user visits a retail agent who verifies the user's identity through the information made available by the mobile money platform and makes the switch. This platform allows money to move distances within little time.
According to statistics, 12% of Sub-Saharan African adults have a mobile money account. Sub-Saharan Africa relies heavily on mobile money, with about 548 million users registered to mobile money platforms. It is also reported that in 2020 alone, about $490 billion was exchanged by Africans using mobile money providers alone.
Mobile Money as a Tool for Financial Inclusion in Africa
Financial inclusion refers to the ability of individuals to access financial services or products regardless of class, net worth, or company worth. It also refers to efforts to ensure that financial services reach individuals irrespective of where they live, who they are, or what they own at reasonable costs. 
The following scenario paints how mobile money and financial inclusion work: Mama James is a 47-year-old widow who barely finished primary school. She lives in the village without access to basic amenities like light or good roads. She is a farmer; her farm's produce is barely enough to feed her, not to talk of being sold in the market for gains. Now James, who is 25 years old, moves to the city for greener pastures, he wants to send some money home to Mama, but he can't as she doesn't have a bank account. He tells her to go and open one, well she tries, but the bank is asking for too much; electricity bill, Id cards, and other utilities. Mama James has not had light in some 5yrs after a storm destroyed the connections in her house. She relies on paying to charge her phone.
So she resigns to doing her petty jobs as she doesn't trust her neighbors not to rip her if she has John send the money through them. Well, she hears of the mobile money platform from one of her friends whose son had gone to the city earlier than James. She opens an account with them with her phone and her sim card. They do not ask for too much, and it's easy to process. Now Mama James can send and receive money. She is even saving up to stock the shop she got with James's money.
Mobile money has a crucial role to play in ensuring financial inclusion. Its benefits are quite numerous. They include:
Reduction of poverty levels: The level of poverty in society would drop as people would have access to funds as soon as they need them without necessarily owning a bank account. Mobile money platforms also give their customers easy access to loans. Mobile money allows inclusivity of people in society, not minding status in any way. It has played an active part in ensuring that the masses take an active role in the economy while removing people from the depths of poverty.
More savings: These mobile money services are used for sending and receiving money only. They are also used to save and access other services, including insurance credit. As a result, mobile money accounts in most African countries are less costly to maintain in terms of holding and transacting.
Easy access: The mobile money agents are well distributed in rural and urban areas. The extensive reach of mobile money agents makes them easily accessible to the masses.   
In 2011, the level of financial inclusion in Sub-Saharan Africa was just over 23 percent. In 2017, it was almost 43 percent, with a significant increase coming from digital financial services. According to Findex, while the share of adults in Sub-Saharan Africa with a financial institution account barely budged, the percentage with a mobile money account almost doubled to 21 percent. In every other region of the world, mobile money use is lower than 10 percent.
It is reported that there has been a notable improvement in the financial inclusion growth from 23% in 2011 to 43% in 2017. In addition, more than 395.7 million registered mobile money accounts in the Sub-Saharan African region, a 45.6% representation of the world total. Therefore, it would be fair to conclude a positive relationship between mobile banking and financial inclusion in Africa. 
Nigeria has achieved a measure of success on financial inclusion; however, Nigeria's success in financial inclusion does not come from mobile money platforms. Instead, financial institutions have experienced an increase in customers who open a bank account.
However, the number of people walking into a bank is gradually reducing as there are increasing POS terminals because of the ease of access and availability to the public. POS terminals are a more accessible means of payment in Nigeria, although they present the issues of network failures and power challenges at times. POS terminals are the primary drivers of financial inclusion in Nigeria; they are within 5 minutes walking distance, with communities having several operators.
 Conclusion 
Financial technology in its various forms, such as mobile money services and POS terminals, is on the way to ensuring the total inclusion of the masses in most developing countries around. Every year, there is an increase in mobile money services due to the users' increased access and awareness on how secure, beneficial, and efficient this platform is when they need to access financial services. 
They are making sure that citizens are a part of the economy by ensuring financial inclusion should be the goal of every government. Policies and innovations that allow financial inclusion are great to start.