Renmoney Vs Carbon: Best Business Online Loan Platform.

The Nigerian business landscape is always evolving, and as an entrepreneur, securing reliable funding can be the game-changer between triumph and stagnation in your business. The rigid prerequisites, collateral demands, and protracted approval processes of traditional banks have paved the way for fintech disruptors such as Renmoney and Carbon. Notably, these platforms offer swift and accessible funding solutions for businesses.

Whether you have a developing startup venturing into the market or an established enterprise seeking to expand its operations, having adequate capital is paramount. Hence, this article aims to conduct a comprehensive comparison of Renmoney and Carbon, scrutinizing their key features, strengths, and weaknesses. Armed with this knowledge, you'll be empowered to make an astute decision for your business
Related: How to secure funding for your business
Factors To Consider When Choosing An Online Business Loan Platform

Well, choosing the right online loan provider is pivotal for the prosperity and growth of your business. But then, several factors warrant consideration when evaluating potential funding providers. Here are some essential aspects to bear in mind:
Opt for platforms with years of specialized experience.
Examine their reputation and past performance.
Thoroughly Assess Terms and Conditions
Evaluate the loan amounts offered and their adaptability to your business needs.
Look out for transparency and effective communication channels.
Ensure the platform aligns with your business objectives.
Prioritize platforms with a commitment to outstanding customer support.
Verify their adherence to legal and regulatory requirements.
Consider their collateral demands.
Look into the source of their funding.
Renmoney
Renmoney is a Nigerian Fintech Microfinance bank established in 2012 and situated in Lagos, Nigeria. It was previously known as RenCredit. It has emerged as one of Nigeria's foremost fintech companies, celebrated for its emphasis on simplicity and user-friendliness.
Renmoney provides accessible financing solutions for personal needs and small and medium-sized enterprises (SMEs). Over the years, the company has disbursed over 3 million loans, catering to the credit, savings, deposit, and banking requirements of its users.
Key Features of Renmoney
Streamlined Application Process: Renmoney offers a seamless online application process, liberating entrepreneurs from the need to visit physical bank branches or navigate through extensive paperwork.
Swift Loan Approval: Renmoney prides itself on a rapid loan approval system, delivering feedback on loan applications within 24 to 48 hours.
Flexible Loan Amounts: Renmoney caters to the needs of diverse enterprises, offering a range of loan amounts. Whether you require funds for inventory management, equipment purchase, or business expansion. Additionally, they extend loans for home renovations, car acquisitions, school fee payments, medical bills, and more.
Competitive Interest Rates: Renmoney allows loan applications ranging from ₦6,000 to ₦6,000,000 without collateral, with repayment periods spanning 3 to 24 months. The monthly interest rates range from 2.4% to 9.33%, and the maximum Annual Percentage Rate (APR) stands at 35.76%. Furthermore, Renmoney provides opportunities for competitive savings rates.
Renmoney Loan Requirements
To be eligible for a loan from Renmoney, applicants must fulfil the following criteria:
You must be aged from 22 years to 59 years at both the application and loan repayment stages.
Individuals must demonstrate a steady and verifiable source of income, either as a salary earner or business owner.
A good credit record with the credit bureau is necessary, along with a savings or current account with any commercial bank in Nigeria.
Applicants must reside or work in cities where Renmoney operates.
A utility bill serving as proof of residence is required. Examples include PHCN bills, waste management bills (LAWMA, etc.), water bills, cable bills (DStv), and rent agreements.
BVN (Bank Verification Number) and any other verified means of identification must be provided.
Carbon

Carbon, formerly known as Paylater, burst onto the Nigerian fintech scene in 2016, introducing itself as a digital lender. However, over time, Carbon has expanded its services beyond business loans, positioning itself as a comprehensive financial services provider. Notable businesses such as Kidi, Smile, and Cars45 have embraced Carbon's offerings.
Key Features of Carbon
• Flexible Loan Limits: Carbon's SME Finance package offers varying loan limits, catering to the needs of small to medium-scale businesses. This financing option provides accessible credit for purchasing inventory, settling unpaid invoices, procuring goods and services, and fostering business growth to generate more income. Additionally, Carbon offers individual loans.
• Competitive Interest Rates: Carbon aims to provide borrowers with competitive interest rates, ensuring cost-effective financing options. The interest rate decreases when you repay your loan earlier.
• Quick Application and Approval Process: Carbon's application process is designed for speed and efficiency. Loans through the Carbon app are typically completed within a short timeframe. While Carbon SME Finance authorizes loans in less than 48 hours, approval of other loans can be achieved in just a few minutes.
• Flexible Repayment Options:  Carbon provides numerous repayment alternatives that take into account the cash flow dynamics of enterprises. They offer simple repayment terms, enabling borrowers to select schedules that complement the revenue cycles of their businesses
• APIs Accessibility: Carbon provides APIs which businesses can use to develop and expand their operations. Access to uncollateralized credit, safe online transactions, dependable cash transfers, and quick KYC compliance requirements are all made possible by these APIs.
• Carbon provides a debit card for practical financial activities. Carbon also gives a credit report. In addition, they offer a credit report service that lets people control and track their creditworthiness.
Carbon SME Finance Loan Requirements
To qualify for Carbon SME Finance loans, you need to pass these criteria.
Be at least 18 years old and above.
Possess a valid mobile number, a functional email address,
Provide your Bank Verification Number (BVN).
You must also have a registered business in Nigeria with a minimum operational history,
Provide specific business documentation like a 6-month bank statement, and present a valid means of identification.

The Carbon loan application process consists of two major sections: employee verification and bank account verification. Carbon utilizes these verifications to assess your eligibility for loan repayment.
Related: Fairmoney vs Carbon
Renmoney Vs Carbon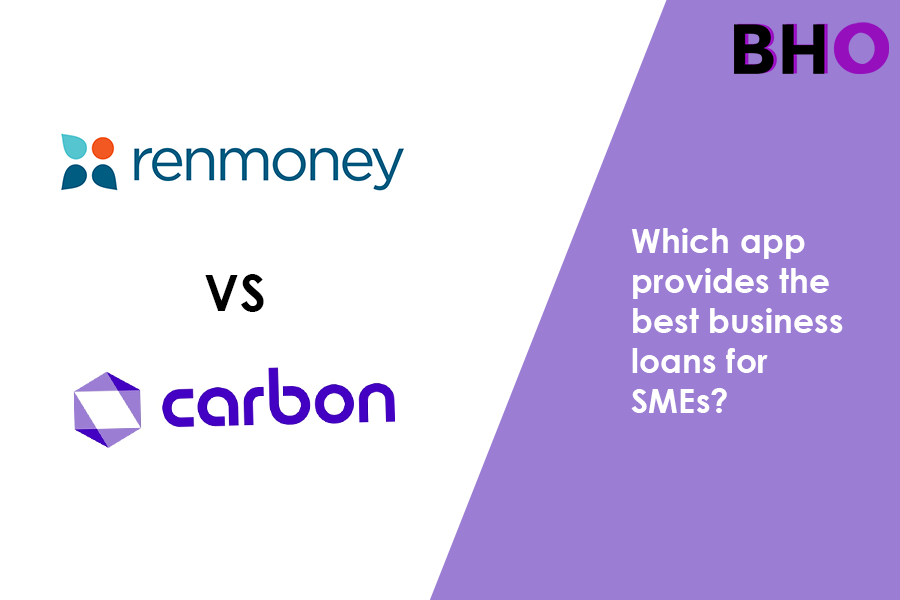 Feature
Renmoney
Carbon
Loan Amount
6,ooo – 6 million naira
2,500 – 1 million naira
Speed of Approval
Approval of loans up to 6 million naira within 24 hours.

Approval of loans up to 15 million naira within 48 hours
Approval of loans up to 1 million naira within minutes.

Approval of loans up to 20 million naira in 48 hours or less
Repayment mode
From 3 months to 24 months depending on loan type.
From 3 months to 6 months depending on the loan type , choice of payment date and new /old customers.
Interest rate
₦6,000 t0 ₦6,000,000
2.4% to 9.33%

Maximum annual percentage rate (APR) of 35.76%
₦2,500 – ₦1,000,000
2.5% to 30%
Play store rating
4,0 (14k reviews)
4.4 (149k reviews)
Number of downloads
1M+
5 July 2023
1M+
4 July 2023
Compatibility
Android
3.0 and above
Android
7.0 and above
App size
45MB
30.18MB
Loan Amount:
Renmoney offers personal loans ranging from 6,000 to 6,000,000 naira and business loans up to 15,000,000 naira.
Carbon provides individual loans from 2,500 to 1,000,000 naira, while their SME finance loans go up to 20,000,000 naira.

Speed of Approval:
Renmoney approves and disburses personal loans up to 6 million naira within 24 hours. Business loans up to 15 million naira take approximately 48 hours.
Carbon approves and disburses individual loans within minutes, while Carbon SME finance loans are approved within 48 hours or less

Repayment Mode:
Depending on the loan option, Renmoney provides repayment terms that last from 3 to 24 months.
The loan type and the payment date you select determine Carbon's repayment strategy. Repayment terms for new clients are 3 months, while they are 6 months for clients who returned. For both loan applications, the payment due date cannot be changed or delayed.
Interest Rate:
Renmoney's interest rates on loans vary from 2.4% to 9.33%, and have a maximum Annual Percentage Rate (APR) of 35.76%.
Carbon's interest rates on loans for monthly basis range from 2.5% to 30%,depending on the loan type.
Additional Services:
Both Carbon and Renmoney offer loans without guarantors, documentation, collateral, or hidden fees. They include tools like loan calculators for calculating loan amounts and interest rates, and reminder for due dates.

App Rating:
The Carbon app had more than 1 million downloads as of July 4, 2023, and the Play Store gave it a rating of 4.4 (based on 149 reviews). The software is 30.18 MB in size and works with Android 7.0 and higher.
 Play Store awarded Renmoney's app a rating of 4.0 (based on 14k reviews) as of July 5, 2023, and it had been downloaded more than 1 million times. The app is 45 MB in size and compatible with Android 3.0 and above. You may get them both from the Apple Store and Play Store
Is Carbon Loan App real?
The Nigeria Deposit Insurance Commission (NDIC) insures customer deposits at Carbon, which has a license from the Central Bank of Nigeria to operate as a microfinance institution.
Is Renmoney Loan App legit?
Renmoney is authorized by the Central Bank of Nigeria and is also endorsed by the Nigeria Deposit Insurance Commission (NDIC).
Renmoney Vs Carbon: Conclusion
Renmoney and Carbon have transformed business financing in Nigeria by giving business owners simple, approachable solutions to acquire the capital they require. Their "digital first" strategy has lowered finance barriers, promoting more financial access and economic growth. Making the right decision for any format might help you realize your entrepreneurial goals in Nigeria's dynamic business environment.