How Indomie conquered Nigeria: Brand Building in a complex Multi-Cultural economy.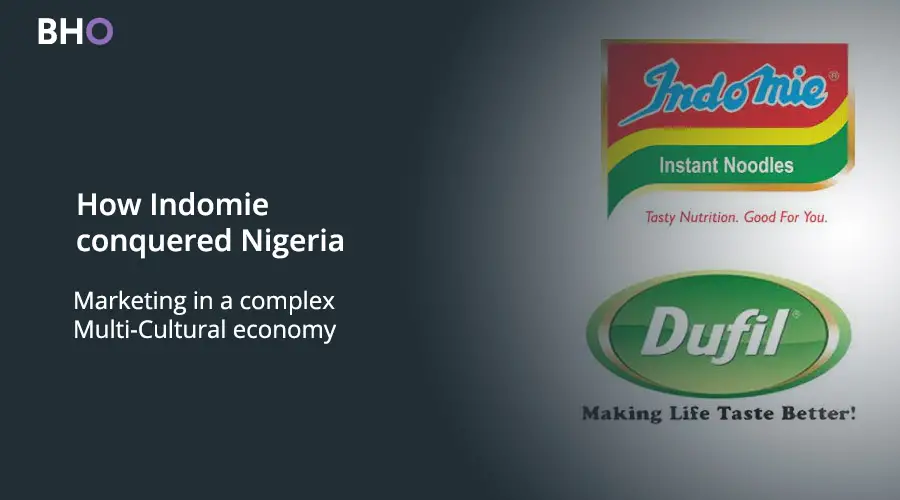 One of the primary objectives of any business organization is to maximize profit by increasing,  sales volume and minimizing cost. volume, to achieve this, firms should strive to describe their products to answer questions customers have, not as what they make or produce, but as what they do to satisfy consumers. Dufil's plc is doing excellently well in achieving these objectives.
Dufil Foods
Dufil was formed in 1995, as a  joint venture between the Indonesian Salim Group and the Singaporean Tolaram Group to produce the Indomie brand of instant noodles. In  2001, it became a private limited liability company in Choba, Port Harcourt, and   In 2008, the company was converted to a public limited company and became the group's holding company.   The success of this enterprise can be attributed to a carefully structured business model and marketing strategy,  that guides the operation of the entity.
  In a fast-paced market like Nigeria, fresh ideas and product innovation are not just necessary but crucial. Whether they operate locally, nationally or globally, a company's ability to improve operations, launch new products, market, create awareness, boost efficiency, and, most crucially, increase profitability is dependent on its ability to successfully exploit new ideas.
How Indomie Conquered Nigeria
To do this, dufil implemented a market segmentation strategy by embarking on a sophisticated packaged food division, sustained by resilient operational track record, solid shareholder backing, relentless expansion and backward integration by practice.  While the specific objectives are to examine the business model/marketing strategy that helped them achieve it.
 Dufil has established itself as the standard-bearer in the instant noodles categories by constant backward integration efforts over the last decade,  In building their brand, dufil leveraged more on social media marketing, which includes audio, visual and oral marketing of their products, this appeared to have given them a competitive edge in the market.
Related: Gokada's super app ambition: Challenges and opportunity
With this, Dufil has become a household name, that customers now refer to all instant noodles as "Indomie". This is representative of strong consumer interest. Dufil has been able to achieve this through its strategy of several products with competitive pricing, this is supported by its extensive distribution network – You can be almost sure every small store you walk into in Nigeria will have Indomie for sale.
 Every year, a survey is conducted for about eight million children in Nigeria and beyond, to evaluate their product beforehand.   Given that their target audience was primarily children,  who could always persuade their parents to get them what they want.
The use of market and street activations were fully implemented to facilitate the collection of necessary data.  For their market activations, professionals conduct dancing competitions played music and assisted customers in sampling the indomie that evokes a feeling of happiness while moving around the markets or streets.  
As part of their marketing strategy, they adopted a mother and child sector that emphasizes the inseparable relationship between a mother and her child, which can be consolidated through the consumption of Indomie. Instant noodles. This had gone a long way in attracting more customers to the brand.
Since customers always want an improvement over existing products, every year, Dufil come up with new ideas and flavours, having in mind that customers' tastes and satisfaction levels evolve, their strategy is to increase the consumption of Indomie by creating mouth-watering flavours.  
The company's objective is to expand the Indomie consumption level by adding new tastes, hence, these flavours were developed for different consumer segments, therefore it expresses a sense of freshness, newness, and responsiveness to customer needs. Although most of their competitors have their unique strategies, certain things stood out for Dufils' brand and in helping them sustain themselves this past few years.
Dufil adopted a unique distribution strategy that provided sales support down the distribution channel. All distribution within the country is managed by an exclusive national distributor. This exclusive distributor helps in re-distributing stock to the retailers.
The company also offered benefits and high margins to distributors and sub-distributors who patronized and associated with the brand.  Given that the products are of good quality, with constant innovations and excellent product delivery,  they were able to attract and sustain customers who were asking for more and as a result, the product moved quickly and thus generate more sales, revenue and profit.
Dufil plc pride itself in continuous innovations that  will continue to be at the leading edge of supplying excellent products to the Nigerian market, to affirm this, data from the World Instant Noodles Association (WINA), reveal that Nigeria is one of the largest users of instant noodles with about 1.92 million consumers as of May 2020, ranking her 11th in global demand for noodles, and Dufil account for about 75 per cent of market share, this allows it to take advantage or maximize the benefit of large scale production by cutting down the cost per unit of output.
Dufil's ability to constantly adjust to the dynamics of the market, by regularly introducing new goods, maintaining value-based pricing, and implementing a cost-effective distribution plan, that has also put it ahead of its competitors in the market.  Despite their laudable involvement in social media marketing,  Dufil had incorporated digital marketing and analytics which is essential for real-time market data from social media platforms. 
The Indomie Brand
This allows for more information on customers,  for example, information on preferred pack sizes, on needs and brand perception is easily obtainable with digital marketing, which has provided dufil information needed for product rebranding and adjustment.
Dufil meticulously personalizes its brand, by considering regional community and cultural differences in the process. These were tailored to the preferences and requirements of various customers. With growing competition in the market, Dufil started a "market research" campaign. a "door-to-door sales and promotional strategy which turned out to be so effective in promoting brand awareness of the entity. With this,  Dufil had continuously enjoyed a double-digit growth year on year.
Dealing with competition
Not long after Dufil began operation in Nigeria, the competition began to surface here and there and the company's market share took a dive. The company began to consider other channels for promoting the brand. They began to moderate the brand-related discussions on social media effectively and focused on responding to the consumers' comments in real-time to improve interaction. 
Campus tour/campaign
If you schooled in Nigeria, within the last decade, chances are high that you have seen Indoie trucks on your school premises, giving out taste portions and free indomie packets. This contributed greatly to gathering consumer opinion oîn growing the brand reputation
Going Digital
The company had also planned for a fully digital strategy. Dufil, invested more in marketing and communications, having in mind that a brand has a very strong capability with effective marketing and communications, given the increasing competition in the industry. This approach had put the organisation ahead of its competitors in the industry.
Conclusion
Summarily, Dufil competitive edge and strong brand presence over its competitors in the market hinge on the following;
Its sophisticated packaged food division of the economy, is sustained by a resilient operational track record, solid shareholder backing, relentless expansion and backward integration. Shareholders support particularly allows the organisation to plough back profit into the business which engenders expansion.
 Their backward integration approach also allows them to assess to uninterrupted supply of raw materials at cost price. These together allow the business to take advantage of economies of scale that leads to a lower average cost compare to what is obtainable in the industry.
High and sustained growth in revenue occasioned by the blend production expansion, acquisition, high trade volume and upward price review.

This provides the organization with the capacity to absorb rising production and administrative cost needed for mass production and subsequently exploit the benefits of large scale production
It operates a promising cash conversion cycle which could mitigate any sizable shock in future cash flow. It, therefore, has resilience against unexpected economic uncertainties.

This allows the entity to stay in operation even when a hiatus in production occurs. Organisations without cash reserves would find it difficult to survive in a period of economic uncertainties.
Aggressive marketing and proficient distribution scheme. This allows Dufil to penetrate the market ahead of its competitors in the industry.
Ability to read the market and diversify to meet emerging needs in food production.
Although Dufil PLC has enjoyed a long and sustained competitive edge in the industry through its rigorous marketing and investment strategies, the indomie market is becoming increasingly competitive and as such, Dufil can only continue its stride in the market with persistent innovation and upgrading marketing strategy.