Corporate Accounts: How to Open Business Accounts without Stress
Finance is key to the success of any business and a plan on how to make, manage and multiply the income of a business can determine if the enterprise will triumph or be trumped. How to open Business account is one of the most asked questions as your business begins to generate revenue and seeks to raise outside capital.
Studies have shown that for business to thrive they need funding for the first few years of start up.
A key factor in realizing funding from investors in opening an official bank account in the name of the company, this gives a lot of credibility to the request for funding as it establishes the legal standing of the enterprise.
However, a lot of business are unable to successfully open bank accounts due to incomplete documentation. Due registration from governmental and industry regulatory bodies is inevitable.
Sole proprietorship and small business may not necessarily require these regulatory licences if they are into low financial risk projects/establishment and their businesses also run in their names. This is because the risk involved is low.
Related: Starting a business in Nigeria
Requirements for opening a Business account
The Checklist
A registered business name
The Business Name has to be registered before it can have a corporate account in its name.
7
Memorandum/Articles of organization
Memorandum of Organization is the article that constitutes the opening agreement of an organization.

Board resolution to open account signed off by the director(s)
Banks require that the resolution from the Board of Directors authorizing the opening of the account to be presented to validate the account opening
The name of the signatories to the account should be clearly stated in the board resolution. In a setting where there is no board of directors, this document can be substituted with the 'Minutes of meeting' where the deliberation to open the account was made. The minutes should also contain the agreed signatories to the account.

Certificate of incorporation with CAC

SCUML for businesses that require them in line with EFCC regulation.
Special Control Unit on Money Laundering (SCUML) is charged with the responsibility of monitoring, supervising, and regulating the activities of Designated Non-Financial Institutions (DNFIs) in line with the Money Laundering (Prohibition) Act ML(P)Act 2011 and the Prevention of Terrorism Act (PTA) 2011.
Businesses that Require SCUML
Dealers in Jewelleries, Dealers in Luxury Goods, Chartered/Professional Accountants, Audit Firms, Tax Consultants, Clearing and Settlement Companies, Legal Practitioners, Trust and Company Service Providers. Estate Surveyors and Valuers, Hotels and Hospitality industry, Dealers and Miners of Precious Stones and Metals, Pool Betting, Casino and Lottery, Supermarkets, Non­-Governmental Organizations, Consultants and Consulting companies, Construction Companies, Estate Agents, Dealers in Real Estate, Importers and Dealers in cars and vehicles Dealers in Mechanized farming equipment and machinery. Practitioners of mechanized farming and any other business(es) as may be designated from time to time by the Federal Ministry of Trade and Investment or SCUML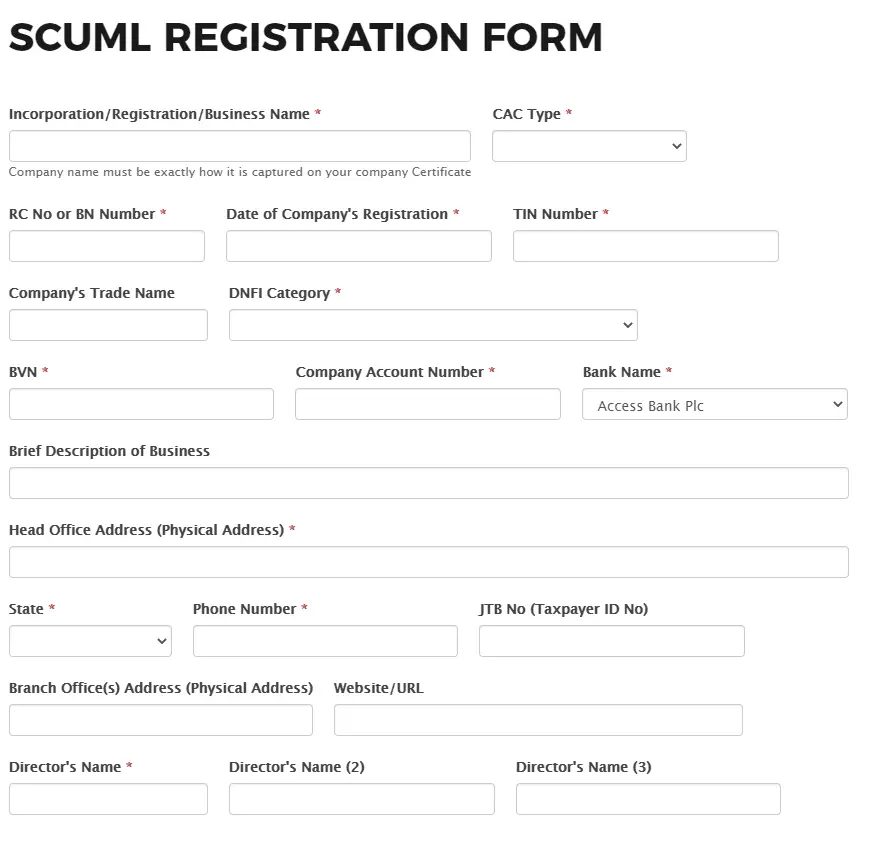 Constitution (for associations, partnerships, and limited liability companies.)
The constitution that establishes the organization needs to be presented in the process of opening a corporate account
Two Passport Photographs of the signatories
Recent Passport photographs of the intended signatories to the account need to be presented to open the account.
Evidence of registration with FIRS(TIN)
The Taxpayers identification number is valid evidence for registration with the FIRS
Directors' validation documents

Valid ID card
Valid means of identification such as International Passport, Drivers license, National Identification, Permanent Voters Card
Proof of address
Proof of address is constituted mainly by utility Bills such as Water, Electricity, waste, etc.
Note: This proof of address does not necessarily need to contain your name, they only need to validate that the address you claim exists.
BVN
Your Bank verification number that is linked to your existing accounts is needed to open a corporate account. This helps the bank also verify the authenticity of the transactions on the account

Ultimate Beneficial owner for the account same as the directors' of the company as on the CAC
This is the details for the Owner of the account
Two(2) Corporate references.
The references from businesses that also run regular corporate accounts are needed to back up your application.
Search Report
This is proof that your business is actually registered.
It is worthy of note that accounts need to be funded to commence the relationship with bank.
Related: The Business Landscape in Nigeria: 2020
Corporate accounts Limit
| | | | |
| --- | --- | --- | --- |
| 1 | Daily Transfer Limit | 20 million | might vary slightly depending on Bank |
| 2 | Cash Deposit Limit | 5 Million/ $10,000 | might vary slightly depending on Bank |
| 3 | Cash withdrawal Limit | 20 Million | might vary slightly depending on Bank |
| 4 | Cheque | Cost depends on Bank | Average Pricing is 1750naira for 50 pages |
Benefits of opening a bank account.
Having a bank account affords you a leverage over competitors for many reasons: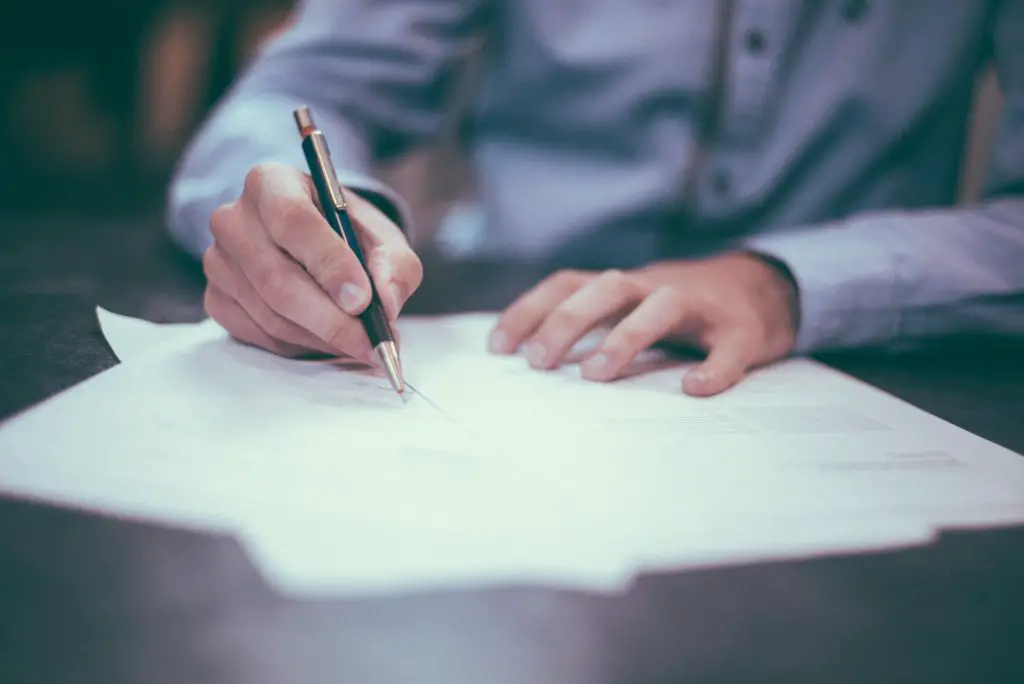 Credibility with investors as funds paid into an account are traceable.
Trust from customers as they are confident they are making payments to the right quarters most importantly for businesses that trade online or long distance.
Effective evaluation from regulatory bodies, this prevents multiple taxation as transaction history can easily be determined.
Access to loans and other credit facilities can be granted with a regular and operational bank account.
Ease of making payments for services or products bought as this could be process digitally as against cash payment.