How to deal with Business Failure in 4 easy steps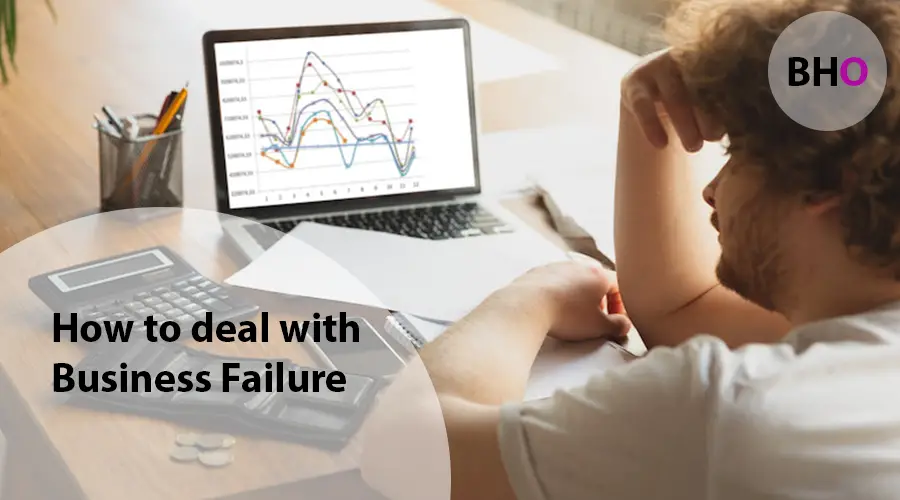 HOW TO DEAL WITH BUSINESS FAILURE      
Failure, is the singular metric that is common to every successful business organization. The enormous success that succeeds their failure has perhaps given another definition to failure. Contrary to common logic, failure is now been considered as part of success, and not the opposite of success.
Think of your business as a  big healing bloom that wants to take off but is being held back by either a failing product, underpaying client, mismanagement of funds or a lack of focus. Once you have identified the problem, you must ruthlessly remove everything that is holding it back.
The success story of great entrepreneurs like Walt Disney, Thomas Edison, Fred Smith, Steve Jobs, Colonel Sander, Henry Ford as the list goes on, after a long list of failures in their businesses give credence to this claim. While the initial failure has propelled most businesses to enviable success, most businesses fail to bounce back from failure (pun intended). From observation, there is a direct correlation between how businesses respond to failure or setbacks and whether or not they recover from them.
Every business is just as good as the amount of revenue it generates, regardless of how much of experience a salesperson has, the owner of the business will always be the best person to sell a company's vision, products and ideas. As such, following the right steps is important in overcoming business failure.
To begin, you must have a product that meets a demand in your pre-determined market demographic as well as one that is reasonably priced. It is crucial to note that selling is a transfer of energy, thus, every business owner should demonstrate enthusiasm and active listening in their interactions with their (potential) clients.
Related: Determining Product-Market fit
How to deal with business failure.
Understand and focus on your customers
After determining your ideal customer profile, you must understand the needs of your customers and adjust to satisfy them as promptly as possible. The easiest client conversions have been proven to come from referrals from satisfied customers. You must speak the customers language and find answers to the question they are asking,
 A business person must do extensive research on what the customer thinks success looks like, knowing fully well that the success of any business is directly proportional to the number of satisfied customers your business has. Listen to your customers and participate in their purchasing process. Devise a mechanism that holds the customer throughout the buyer's journey.
Related: How to sell new products
Focus on the numbers – Deal with Inefficiencies
Many deficiencies do not come into light until you look at the figures; the idea is to figure out what works and what does not. Data is amoral. It does not have an opinion of its own and as such it gives an unbias view of the state of a business when properly understood. A good analyst puts this into a story to explain what is or is not working about the business,
Related: How to innovate by paying attention to numbers
 Call for a stakeholders meeting and look at your numbers as objectively as possible with your data. Determine where you stand in terms of revenue, expenses, assets, and liabilities. Don't just have the raw data; break it down by product, service, or client, as well as the overall effort of your team, depending on how your business operates. 
Looking at the figures shows the actions that should be improved on, the low hanging fruits that can make you generate more revenue and what should be intensified.
Building a business is a lifelong learning process therefore the need to study and brainstorm with industry peers and mentors is almost inevitable. By doing this, you have a clearer view of your options and solutions to difficulties by virtue of the experience of your peers and mentors. With this, problems can be solved faster, easier, and with fewer resources.
 To gain a competitive advantage, something that gives you an advantage over others, you must devote yourself to voracious learning, spend time with someone who has been there before, read and learn more about the art of selling with words, copywriting, and closing sales.
Use the Pareto principle, which states that you should locate the 20% of your abilities that will yield an 80% result. It's crucial to understand that it's not the product that sells; it's how you sell the benefit of whatever you're offering.
There is a quote that says "if you believe in yourself, anything is possible."  The power of belief can turn things around. It gives you strength, purpose and strengthens your determination. The belief of Colonel Sander kept him going after multiple rejections and setbacks, Thomas Edison tried more than 10,000 times to get it right in bulb production, there are numerous other examples. Believing in yourself gives you the mental strength to keep going, it propels you to work harder
A wise man once said, "All men make mistakes, but only wise men learn from their mistakes".
 A businessman should try to answer the question of "why is my business failing? what did I do wrong? What could I have done things differently?", the latter being the most important. Having answers to these questions help make effective planning and avoid such mistakes in the future. It goes without saying that "you will never find the solution if you don't see the problem.". It should also be noted that mistakes have the power to turn things into something better than they were before, if and only if we learn from them and take corrective actions.
Be consistent and persevere
Success is considered as the ability to go from one failure to another failure with no loss of enthusiasm. In the word of Samuel Johnson, great works are performed not by strength but perseverance that keeps you going in business.
Encourage people to believe in your vision
It is imperative to talk honestly when advocating a compelling vision. You can innovate and keep innovating. Reduce expenses and focus on future efforts when the entire business is at risk.  Take decisive action and spur your team to do the same.
Conclusion
Put in failure-proof measures,
However, If your business fails, ensure measures are also in place for you to learn from the failure.