How to build a subscription business
How to turn your business into a subscription business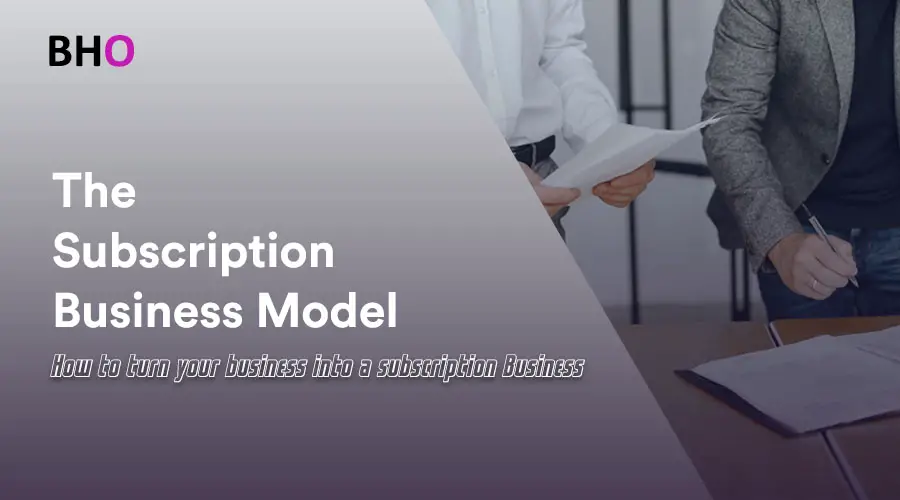 The subscription business model gives businesses recurring revenue that can serve as a backbone to survive pandemics or other unforeseen circumstance.
In this guide, you will learn what, why and how you can adopt a subscription business model.
The Subscription business model
The subscription-based business model is a business model that charges customers recurring fee — typically monthly or yearly — to access a product or service.
The subscription business model thrives on the simple fact that people are always prepared to pay more for the flexibility of their comfort.
The subscription businesses generate recurrent revenue, as clients pay a monthly or annual price to access a product or service, they can be more reliable business model compared to the regular one-off pricing
Each subscription-based business has its benefits, and drawbacks. A gym membership and Netflix subscription are two examples of subscription business across the two main sectors – Physical product and Software. This guide will teach you what a subscription business model is, why it's useful, and how to implement it.
The subscription business is particularly demanding as, you must always deliver on the promise made to your paying customers. This is important!
The subscription by every customer is a commitment to the quality you will continue delivering to them. A subscription business emphasizes and highlights the importance of customer acquisition and retention
In subscription-based businesses, you might be selling your products and benefits at a slightly cheaper price, this will mean you need more runway while starting out as it will take longer to earn a profit from your subscription business.
On acquiring customers
Statistics show that the subscription business model needs fewer customers, compared to other business models, to be very lucrative.
However, acquiring paying customers can be significantly harder. You have to move them from a cold audience who do not know anything about your business to permanent customers who will commit a certain amount of money to you on a recurring basis.
Related: How to start a business
Why start a subscription company?
There is a presence of a recurrent income
Recurrent revenues make your business predictable.
You can track your sales as a business owner, usually, it conveys to you a starting line for determining whether you have stock at the end of your month, contrary to other businesses where a success threshold must be met to pay your staff and cover bills.
A broader range of customers
A subscription product lets you reach an even wider spectrum of viewers. You can reach a wider range of audiences by using a subscription-based product. All you need to do is to inspire the next subscription, anticipate the upcoming abonnement, which allows your customers to sign and commit their loyalty to you.
Convenience flexibility: The flexibility of comfort
With technological tools in place, you are not confined to a place, you can engage in other business, if you are one super talented person, the presence of a few loyal customers and other business in place, you earn as much as you want to in a month.
Subscription companies are great for the management of cash flow and also allows business owners to track behaviour. No presence of physical offices, and other things related to it.
How to develop a business model for subscriptions
Choose a niche
The first thing to do before launching any business is to choose a niche, it is important to choose a niche that is of genuine interest to you, it could be any product since there is the presence of a recurring income.
It pays to offer consumable goods, that are replaced regularly, alongside your consumable goods is a website that won't disappoint, a place where the product sold can be delivered.
Whichever one of the ideas you go with, make sure you test the idea with a teaser page to see if
the product is viable.
Identify your target audience
Nobody wants to invest in a business that fizzles out in due time, hence It's crucial to figure out who your target audience is, what and why do they want to buy from you, identify the right kind of audience gives clarity on the right kind of content, clarifies the type of information that people should consume It. You must be aware of the differences In people's tastes and speak your audience's language.
Establish a stronger connection with your customer
Having a product that people want to subscribe, to is fantastic, but nothing beats connecting with customers. Customers only buy from individuals they can trust, therefore look into practical strategies to create a customer relationship.
With the advent of technology, people are quick to change they're off buying from a brand if they don't perceive any need to. There has to be a strategy in place to keep your customer, it could range from a steady flow of interest, well-balanced distribution of content, email list, to training videos to a blog post, video ad, podcast etc.
Communicate with customers with your product, you can do this by, telling a story or sending handwritten letters, All of this put in place makes the experience enjoyable that customers look forward to their next subscription.
Let them trust you as a brand..-
Price your products right
Customers are very enthusiastic, and price-sensitive, since pricing is very evident in many product categories, there are two categories of people, high spending customers and price-conscious ones, there are on
However the price system is the first thing people that catch their attention after seeing a product; If you try to make it cheaper, some people will refuse to buy it because they believe it isn't rigged and lacks good quality, and if you make it to high, only those who value the product will want to get it. Anything you're selling must is priced at a level that your buyers can relate to.
Endeavour to do proper research before selecting a price for your product
Develop a referral system
Referrals work wonders than content creation if you can leave a beautiful impression on people, get family, friends, customers to refer you or adopt an online system, pay for an advertisement that generates leads for your business. You can start with 3-5 items, choose items that can fit into your box, make sure they are light on weight and will save you a shipping cost.
How to turn an existing business into a subscription business
Every business exists to solve a problem. The way every business goes about it is what determines its business model.
If you sell to consumers only when they ask you, you have built a generic on-demand business.
while
If you decide to be proactive and think for your consumers, offer flexibility in offering your service to them for an upfront fee. You have built a subscription business.
Example
A car wash is to help customers wash their cars.
All the customer wants to do is wash their car, they do not necessarily want to drive al the way to your store on a Monday morning for a quick wash.
Turning this into a subscription business could mean asking them to subscribe to wash for their car monthly, three times a week including Sunday mornings. Charge them appropriately and get their car washed in their houses at the stipulated time.
The number of subscribers you have to this service represents a steady flow of income for your business and help you scale faster.
How subscription business affects valuation
According to John Warrillow, author of The Automatic Customer, a recurring business's value can be up to eight times that of a similar business with very little recurring revenue
Steady and predictable revenue
The valuation of a business is greatly dependent on revenue, Having a steady stream of income will boost the valuation of your business by up to eight times.
Salesforce commands a higher market valuation than SAP, although SAP has double the Salesforce revenues.
Ability to control expenses and invest in growth
One of the benefits of steady predictable revenue is that you will be able to make plans to invest in growth based on real time customer data.
For example, if your business does $100,000 in revenue and 60% of this is recurring. at the start of the year, this can always be used to manage spending projections according to the recurrent revenue available
How to NOT grow a subscription Business
Don't throw caution to the wind by giving your product away in a bid to acquire cusomers
Monitor the right KPI's
Don't scale rapidly until you have a good product-market fit
Focus on value