How to bypass CBN ban to buy bitcoin or any other cryptocurrency in Nigeria.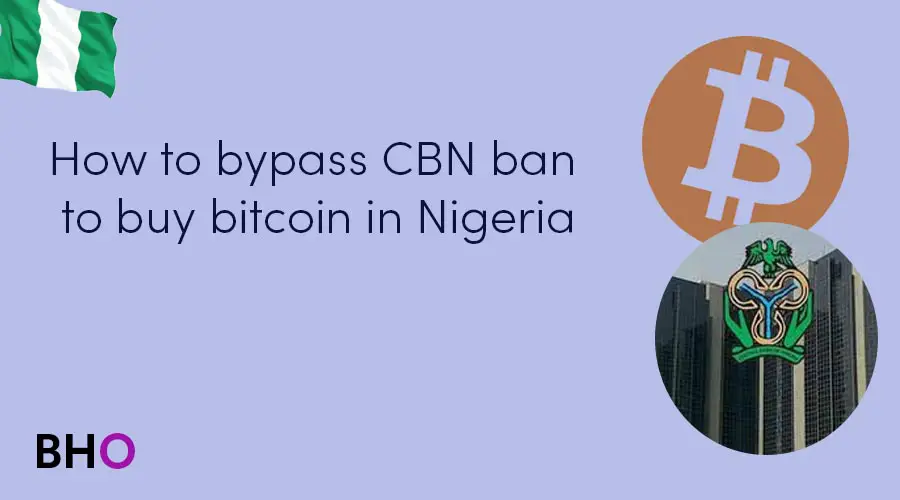 The past few weeks has been troubling and it seems like we have to live with the new normal as the senate and the powers that be debate the ban. If there is going to be any reversal in policies, its most likely not going to be anytime soon.
The new regulation by the Central Bank of Nigeria which restricts direct use of local bank account to fund cryptocurrency wallets affected exchangers like Luno, Binance, etc., as Nigerians could no longer fund their wallets through their platforms. But it has not stopped Nigerians from trading cryptocurrency and it shouldn't stop you either.
Fellow Binancians,

We are aware of the recent circular shared by the Central Bank of Nigeria (CBN) around cryptocurrency-related Nigerian naira (NGN) payment activities in Nigeria and we are monitoring the situation closely. Please note all your funds on Binance.com remain safe and crypto services on Binance.com will continue as normal. However, our NGN payment partners are suspending deposit services until further notice. From 7 PM (GMT+1) on Feb 5th 2021, Binance will temporarily suspend NGN deposits through our fiat partner channels. Withdrawal services remain normal and will continue to be processed but might take a slightly longer time than usual. We apologise for any inconvenience this may cause

Binance
Cryptocurrencies are decentralized and can conveniently stay beyond the reach of any government body, so there is no need to panic about any fear as regards buying crytocurrencies.
Despite the ban there are many ways you can still go ahead to trade cryptocurrencies with ease, without fear of being banned.
1) Peer-To-Peer (P2P) Transactions
One of the options we have is a peer to peer (P2P) purchases. Basically, this means buying and selling between two individuals without a third-party's involvement. But to do peer to peer trades, you need to know someone who is willing to sell or buy depending on what you wish to do with your coin or naira. There are a few trusted platforms that act as escrow: Remitano.com and Binance.com. However, it is important to avoid the use of any crypto-related payment reference to avoid being flagged.
Binance Peer to peer
I consider binance to be the best peer to peer feature out there in the market today, as most of them are saturated with scams, inadequate KYC poor customer support, high fees or a combination of any of these cons.
Binance p2p has zero fees, allows you to buy any crypto almost instantly. Within a maximum of 30 minutes, you have the crypto deposited in your wallet.
In response to the CBN ban, Binance even made its P2P platform more suited to Nigerian users as it launched the NGN Fiat/NGN pair with zero fees. This pair treats Naira as a cryptocurrency and makes you deposit naira directly without the hassle of converting to bitcoin or USDT
How to purchase Naira on Binance.
Binance has an escrow feature that ensures your money is safe durind the course of the transaction. DO NOT TRADE DIRECTLY WITH ANYONE OUTSIDE OF THE BINANCE PLATFORM TO AVOD LOSS OF MONEY
If you are still unsure who to trade with on Binance, you can scan this Qr code or click on this link to trade with our verified account directly on Binance
2) Cross-border Payment Apps
These are apps domiciled in other countries. With cross-border payment/transfer apps, crypto users can deposit money (in those apps) and fund their crypto wallets via mobile money, to facilitate their trade and send their monies home. Although most apps can claim deposits, it is also important to be sure you can make withdrawals. The best apps for this method are Bitsika, FxKudi, and Cofredpay depending on your preference.
PS: As at the time of writing of this article i have reached out to the Bitsika and they declared they are not accepting pazments from Nigeria at the moment, while i found the FXkudi app unusable. I included this option because it is a valid one and there is possiblity it works ot as things become more stable on the regulation side of things.
I'll update this post as soon as there are new developments.
3) Forex Brokerage Accounts
Forex accounts are not only for trading, they can also be used to keep your money in dollars. Many forex brokers also allow you to fund your account and withdraw in Bitcoin. So all you need to do is open an account with a forex broker, and fund it with the amount you desire to deposit, then request for your withdrawal in cryptocurrency. You can also fund your account with cryptocurrency, and withdraw from the brokerage to your local bank account. It's really that simple!