This is a complete head to head review of the Piggyvest platform in contrast to the Alat platform.
Some Intro
Piggyvest is an online saving and investment platform that helps users save money efficiently through its different tailored offerings such as target, safe lock etc. Started on the7th of January 2016, it offered only savings to its customers as Piggybank.ng. After 3 years, Piggybank.ng became Piggyvest and began offering direct investment opportunities to its users.
Piggyvest currently has over 2,000,000 customers according to their website that has bought into their mission of giving everyone the power to better manage and grow their finances.
Alat is the first fully functional digital bank in Nigeria. With Alat, you can carry out all your banking transactions without being physically present at any bank branch. It was launched in <may, 2017 by Wema Bank Plc. Within the first year, Alat by Wema acquired more than 250,000 customers wit over N1.6bn in deposits.
Alat also has features that help users save and invest effectively. The digital bank offers everything the traditional bank offers including physical and virtual cards to facilitate online transactions and ATM usage, and offline USSD banking.
Alat has more offerings that allow them to be referred to as a bank in comparison with piggyvest that only provides a virtual account number to help customers.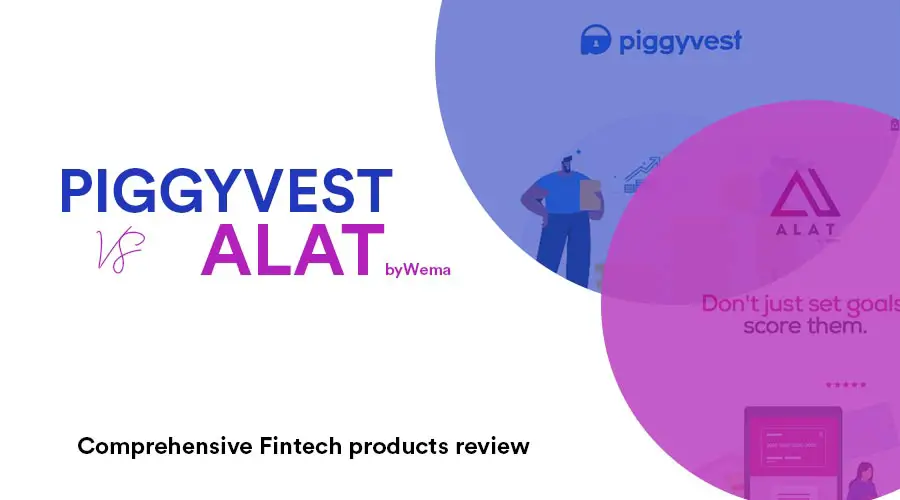 Interface
Alat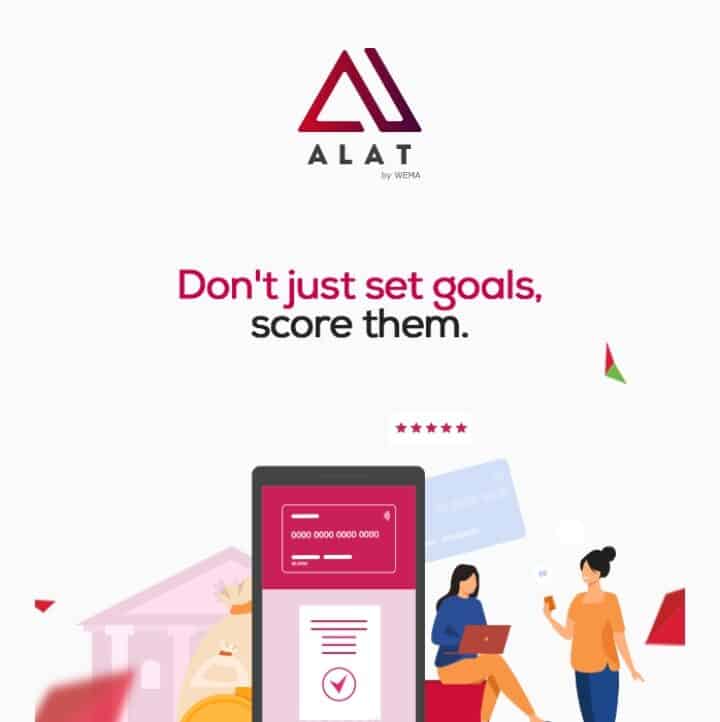 Piggyvest
The Piggyvest interface is a simple and intuitive one, featuring a clean modern design. It is easily navigable with a bottom menu bar. The homepage also features a floating button that you can click to start a new saving plan.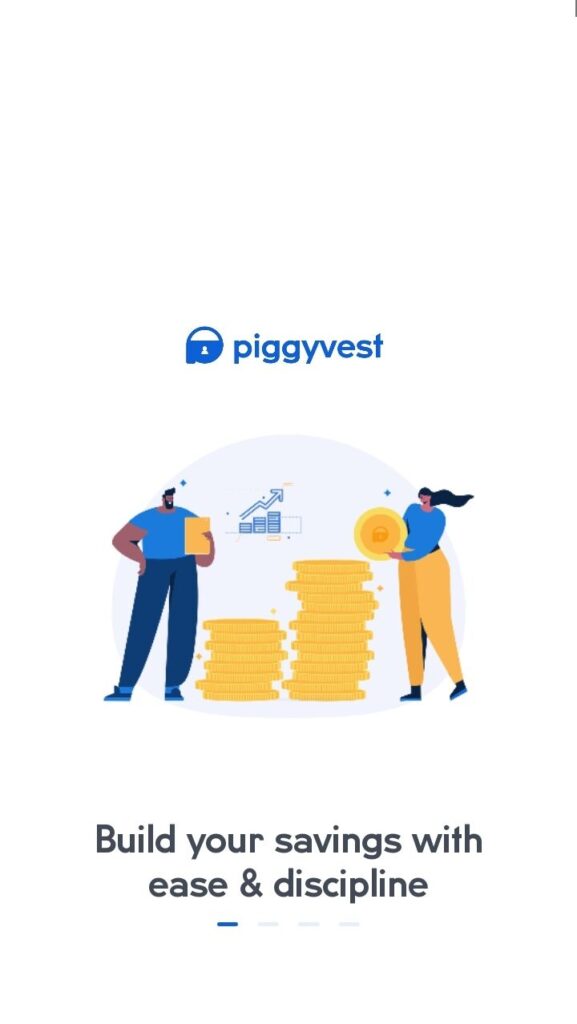 Savings Page
The savings page is where the user can access details about their different saving plans and also start new ones.
Invest page
This is the page where users can browse available investments and choose any one they are interested in.
Apps page
this contains a list of the related apps.
Account page
This page allows users to view and edit their account details.
Core Offerings
Piggyvest
Savings
PIGGYBANK – Automated Savings
Savings made under this offering yield up to 8% per annum on the saved amount.
The helps the user build dedicated savings faster on their own terms automatically or manually.
You can pause or resume your saving at any time, increase your savings amount. <You can also add more funds to your savings by using the Quick Save option that allows you to add up to N500,000 at once. This can be used to make up for a missed saving (day/week/month) as you will not be automatically charged for a missed saving period.
SAFE LOCK – Fixed Savings
Thie feature helps you lock funds away for a fixed period of time to avoid spending temptation and earn up to 12.5% p.a. paid upfront. The return is dependent on the period you choose. With the 12.5% p.a. paid for investments period of 2 years and above.
It is impossible to access the locked money until maturity. It's like having a custom fixed deposit.
You can have more than on SafeLock or add more funds to existing SafeLock. The interest will be automatically calculated and added based on the remaining days to maturity.

TARGETS – Goal-oriented Savings
This feature helps in reaching all your savings goals faster. Save towards multiple goals on your own or with a group.
If you feel at any time you are no longer interested you can "break" your savings and get your funds into your Flex wallet. It is important to note however that you will lose any accrued interest and will be charged a 1% processing fee. Do note that locked targets cannot be "broken".
The returns here is also up to 8% p.a.

FLEX NAIRA – Flexible Savings
This is synonymous with a normal savings account. Possible return on flex naira is up to 8% p.a.
You can easily save, transfer, withdraw, manage and organise your money for free at any time

FLEX DOLLAR – Dollar Savings
Finally, you can save in US dollars if you choose to. You can start saving as little as $1. The Flex Dollar savings can be funded using your Flex Naira account, naira bank card, or dollar bank card. With this plan, you can get up to 5% per annum paid monthly in ROI.
Save in foreign currencies such as USD and Euros.
Investments
The app allows users to invest in different enterprises across multiple sectors such as real estate, agriculture, transportation. some fixed income investment opportunities are also provided.
Investments are made in units or shares that are priced by the business owner. <investors can then purchase these units for a given ROI and period. Returns can reach as high as 24% in a 12-month period.
The user can keep track of their actions or matured investments in the app. Details such as total capital invested effective capital), expected profit & asset value at maturity, a number of units purchased, ownership stake, and the maturity date of the investment can be accesssed. Investors looking to diveersify their portfolio can easily do so by choosing to invest in the different available asset classes.
The investments are vetted by Piggyvest for insurance against loss. However, you can choose to add Piggyvst extra protection to increase the safety of your capital.
You can also liquidate your investments at any time you feel like doing so by trading your units with interested parties.
Alat
Savings
You can start saving with Alat by opening an account online. This process can be done in five minutes with the bank app that is available on both Android and iOS. In addition to the savings account, Alat also offers saving options such as saving goals, target savings, and group savings.
To open a standard savings account all you need is an accepted means of identification such as international passport, drivers license, national identity card or your permanent voters card.
Saving Goals – You can create a saving goal in the app, specifying how much you want to save over your preferred period of time and choose your saving frequency – daily, weekly, or monthly.
The saving is automatic and the goal can be either of two types: Flexi or fixed. No withdrawal is allowed until the end of the period in fixed goals while you can withdraw up to 50% of your savings in Flexi once every 30 days.
Stash – With this, you can save extra cash at an interest rate of 4% per annum. You will have to hold the cash for at least 30 days to qualify for the interest.
Group Savings – With this saving option you can invite up to 12 of your friends to join an existing savings group with a group code.
These plans offer up to 10% per annum interest on the saved amount. With this account you can make payments and send money.
Cards
Alat allows its customers to request a card in-app while also providing in-app control for the cards. The first card you request is free.
Alat also offers a virtual dollar card to its customers for online payments.
Loans
Alat offers loans to its customers.
Salary based loan
Goal-based loan
Device loan
Deals and Offers
Alat sometimes place offers and deals for their customers on their website. This allows the customers to save money by using Alat.
ALAT for Business
This is the corporate version of Alat made to cater to the needs of customers. it has its own dedicated app and allows for transfers of N100M and above, real-time reports from <p<oS terminals, tax payments, among other things.
Outlet by ALAT
This is a digital market place for services such as bill payments, event and movie tickets, flight bookings, airtime purchase, etc. The platform is rather scanty, as there are only a few providers on it and vendors do not exist for all the services as of the time of writing this post.
Summary Piggyvest vs Alat
| Feature | Piggyvest | ALAT |
| --- | --- | --- |
| Platform type | Savings and <investment | Banking (savings, loans, payments, etc.) |
| Card | No | Yes |
| Cardless Withdrawal | No | Yes |
| | | |
Related Posts: Piggyvest Complete Review